Ceviche with Seabass with Spicy Citrus Sauce
by Editorial Staff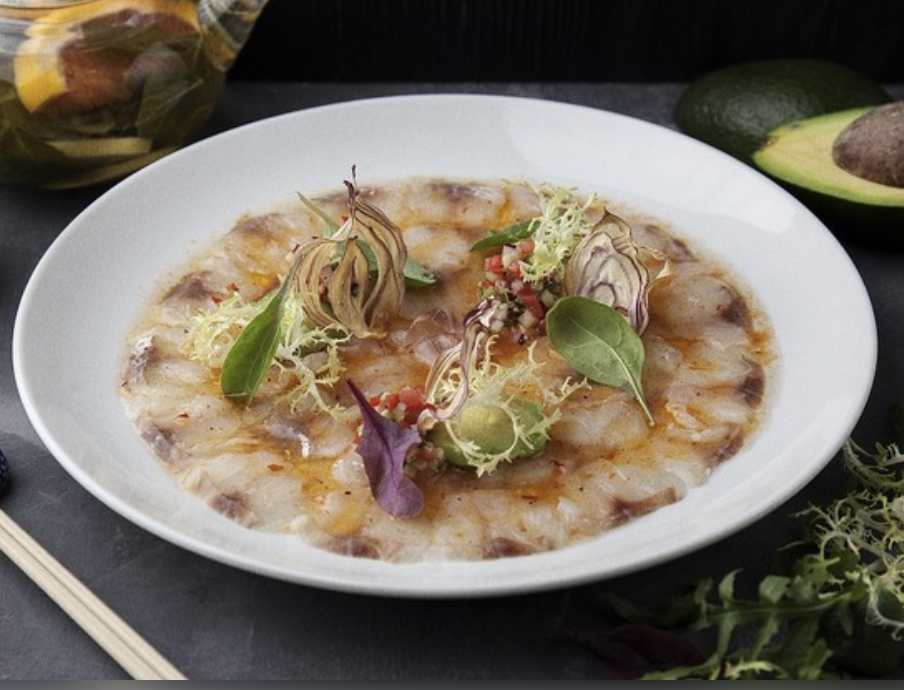 Ceviche is a very old dish, dating back at least 2 thousand years. It was first prepared in Peru. The ceviche recipe is based on fresh fish marinated in citrus juice. Various sources claim that ceviche was consumed along the entire Peruvian coast about 2 thousand years ago. The Incas made this dish with salt, hot pepper, sour orange, and onion. Today, like many popular dishes, ceviche has so many varieties that it's hard to count.
Ingredients
Seabass – 1 piece (size range 300-400)
Ripe avocado – 1 pc
Chili pepper – to taste
Salt to taste
Spices to taste
Mix vegetables – 30 g
Onions for chips – 1 piece
Hot lemon sauce – 40 g
For decoration:
Corn salad
Beet leaves
Fruit and vegetable mix – 1: 1:
Green apple – 1 piece
Tomatoes – th pc
Fresh peeled pepper – 1 piece
Bulgarian pepper – 1 piece
Red onion – 1 piece
Strawberries – 5 pcs
Cucumbers – 1 piece
Pineapple – 1/4 pc
Basil – to taste
Truffle oil – for 100 g – 10 g of oil
For the Sauce:
Soy sauce – 20 g
Mirin sauce – 3 g
Yuzu sauce – 4 g
Mitsukan vinegar – 5 g
Garlic – 10 g
Kimchi sauce – 3 g
Tabanan paste – 1 g
Salt to taste
Lemon fresh – 20 g
Directions
Vegetable mix: Peel tomatoes, bell peppers from the skin. Cut all other vegetables and fruits into small cubes, 1: 1. Stir, salt and season with truffle oil.
Onion chips: Cut the onion into very thin rings – the thinner the onion, the faster the chips will be. Put the rings on a baking sheet and dry in the oven at 70 degrees for 4 hours.
Sauce: Whisk all ingredients. The sauce can be stored in the refrigerator for 3 days.
Peel the seabass, separate from the bones and skin, divide into two fillets. Cut the fillet into very thin slices and place on a plate.
Add salt and pepper to taste. Drizzle with spicy citrus sauce.
Cut three pieces of avocado pulp with a teaspoon or tablespoon, put on the sea bass.
Put a mix of finely chopped vegetables with fruits next to the avocado, garnish with corn salad, beet leaves, and onion chips on top.
Enjoy your meal!
Also Like
Comments for "Ceviche with Seabass with Spicy Citrus Sauce"