Ceviche with Salmon Fillet
by Editorial Staff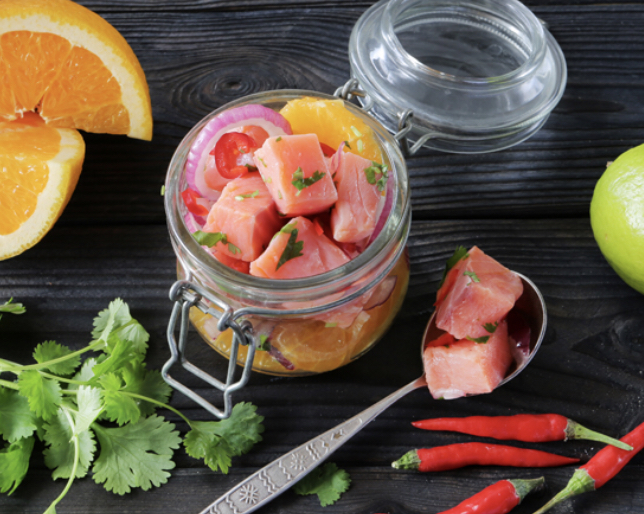 Ceviche is a Latin American dish made from raw fish marinated in citrus juice. The cuisine of each country in this region has given its flavor to ceviche. In Peru, it is served with chunks of cold sweet potatoes or corn; in Ecuador, it is served with popcorn, potato chips, nuts, and huge corn cobs; in Mexico, ceviche is placed on tostadas wheat cakes.
Ingredients
800 g salmon fillet
2 limes
4 large juicy oranges
2 red hot chili peppers
2 red onions
3-4 sprigs of cilantro
300 g canned corn
salt
Directions
Wash the fish and cut into small cubes. Squeeze the juice from the limes and 2 oranges. Cast about 1/3. Peel the remaining oranges and cut them into thin slices, collecting the juice that stands out. Add it to the squeezed juice.
Place the pieces of salmon in a bowl and pour over most of the juice. Cover and leave for 3 hours.
Wash the pepper and chop finely, removing seeds and partitions. Peel the onion, cut it into thin rings. Wash cilantro, dry, and grind. Place the corn on a sieve and remove the liquid.
Lay the prepared ingredients in layers. Top with the remaining citrus juice, salt and put in the refrigerator for 1 hour.
After serving, on their own, guests stir the dish and eat it cold. The acidity in citrus juice makes raw fish usable. But only very fresh fish!
Enjoy your meal!
Also Like
Comments for "Ceviche with Salmon Fillet"