Ceviche with Shrimps, Avocado and Mango
by Editorial Staff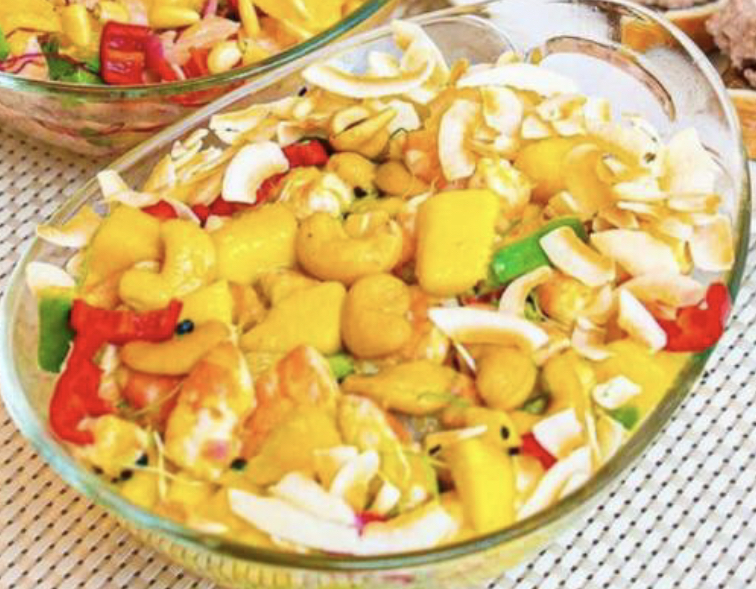 Cooking delicious Ceviche with shrimps, avocado, and mango recipe. Ceviche is an appetizer made from fresh fish or seafood marinated in citrus juice. The dish comes from South America, but is already popular all over the world! Why? Because it is delicious, delicious and fast at the same time!
Ingredients
Shrimp – 150-200 g (peeled)
Mango – 1 piece
Avocado – 1 pc
Cashews – 20 g (optional)
Sweet red onion – 0.5 heads
Lime – 1 piece
Lemon – 1 piece
Honey – 1 teaspoon
Chili pepper (can be seasoned) / Tabasco sauce
Greens – I have cilantro
Directions
Pour boiled shrimp with boiling water and leave to defrost. Bring fresh to a boil and cook for about 3 minutes. Cool, peel, and cut into cubes. Make a marinade with lime juice, lemon juice, honey, add chili or tabasco, salt. Chop the onion finely and add to the marinade.
Then add the shrimp and leave it in the refrigerator for at least an hour. Then drain the marinade, add the diced mango and avocado. Decorate with nuts and coconut chips. Optionally, shrimp can be replaced with fresh salmon, and the marinade can be made from orange juice.
Mango and avocado are easily replaced by other interesting fruits – pineapple, grapefruit, kiwi … Here you can safely experiment! If you will be cooking this exotic dish, leave any smiley in the comments! I would be glad if you liked the recipe)
Enjoy your meal!
Also Like
Comments for "Ceviche with Shrimps, Avocado and Mango"