Shrimp Ceviche with Avocado and Tangerines
by Editorial Staff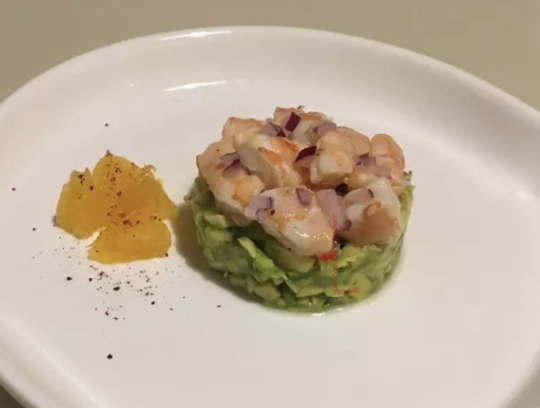 Ceviche is a simple and at the same time unusual dish of fish and seafood that came to the world cuisine from Peru.
Ingredients
1 ripe avocado
8 large king prawns, raw frozen
1/2 lemon Juice
Juice of 1 lime
1/2 lemon zest
1/2 small red onion
Optional chili pepper
To taste Salt
Directions
As with any seafood, the main and most difficult thing in them is to defrost them correctly. Do not forget to remove them from the freezer one day before cooking. Put on the coldest shelf of the refrigerator. And wait until they are completely thawed.
Before cooking, put the completely defrosted shrimp on a dish, cut the back of each with scissors and remove the intestines. If this is not done, the taste of the dish will be worse, the intestines and their contents will be bitter. It is convenient to use tweezers to pull out the black intestinal string.
Our shrimps are raw-frozen, we are not on the ocean shore, therefore, to avoid trouble, we blanch them. To do this, we boil a large pot of water, and we will throw the shrimps into boiling water for no more than 40 seconds. And immediately – in ice water to stop protein denaturation. You do not need to blanch, but make ceviche from completely raw shrimp. Peel the shrimps, separate the heads and tails, cut into pieces of 1.5-2 cm
Squeeze citrus juice, season with pepper, finely chopped red onion. Put shrimp pieces there and leave to marinate for 20 minutes.
Meanwhile, finely chop the avocado. Put it through the culinary ring, pour citrus marinade on top
Layout the shrimp pieces. Pour the marinade. Nearby – slices of tangerine, orange, or grapefruit peeled from the film to choose from. For beauty, I sprinkled everything with sumac. A gourmet snack for a romantic dinner and more.
Enjoy your meal!
Also Like
Comments for "Shrimp Ceviche with Avocado and Tangerines"