Canned Fish Snack Cake
by Editorial Staff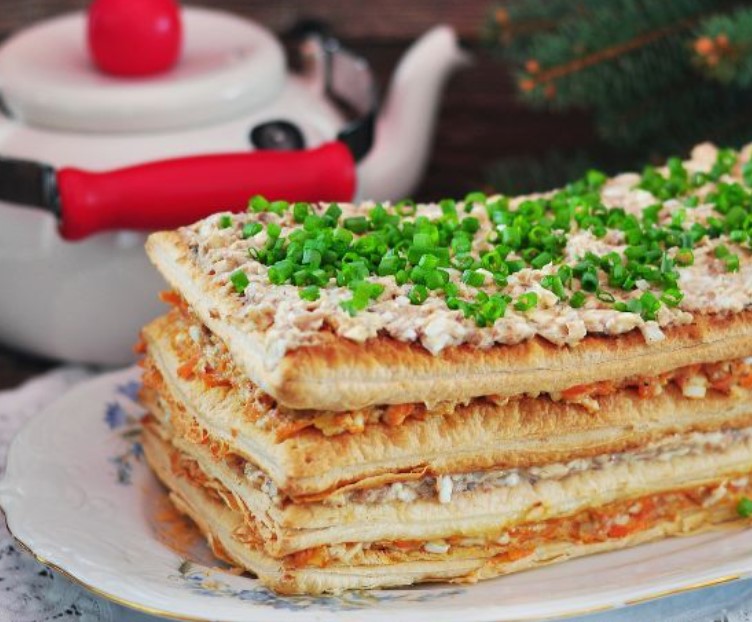 A festive puff pastry snack with canned fish, carrots, melted cheese. The classic combination of filling products is found in many salads.
Ingredients
Puff pastry cakes – 4 pcs.
Canned fish (saury) – 1 can (240 g)
Bulb onions, salad – 1 pc.
Carrots – 250 g
Eggs (large) – 3 pcs.
Walnuts (chopped) – 4 tbsp
Processed cheese – 200 g
Mayonnaise – 4 tbsp
Green onions – 0.5 bunch
Salt – 1 teaspoon (to taste)
Ground black pepper – to taste
Directions
To make a canned snack cake, prepare the foods listed. Bake the puff pastry cakes in advance. To do this, roll out the puff pastry (thawed) to a thickness of 0.5 cm or a little less, prick with a fork and bake at 180-200 degrees for 20-25 minutes (watch the brown cakes). If the dough does rise during baking, just press down on the cake when it is cold with your palm. For this amount of filling, 450 g of frozen puff pastry is enough for you.

Boil the carrots until tender, cool, peel.
Boil eggs, cool, peel.
On a coarse grater, grate the carrots, one processed cheese, two eggs, put in a deep plate.
Dry the nuts in a pan.
Chop the nuts with a sharp knife.
Add nuts and mayonnaise to the cheese and carrot mixture.

Salt and pepper a little, mix the filling until smooth.
Chop the sweet salad onion very finely.
Add onions to canned fish. Add the remaining grated cream cheese, egg.
Add Mayo. Season with salt and pepper.
Stir the fish filling until smooth.
Lubricate the bottom cake with carrot paste.
Cover with the second crust, brush with the fish filling.
Then again comes the cake with carrot filling.

Grease the last cake with the remaining fish filling. Cover the snack cake with canned fish, carrots, eggs and cream cheese with cling film and refrigerate for a few hours. Better at night.
Chop green onions into small pieces before serving the snack cake.
Sprinkle scallions over the snack cake and serve.
Bon Appetit!
Also Like
Comments for "Canned Fish Snack Cake"