Snack Sponge Cake with Fish Filling
by Editorial Staff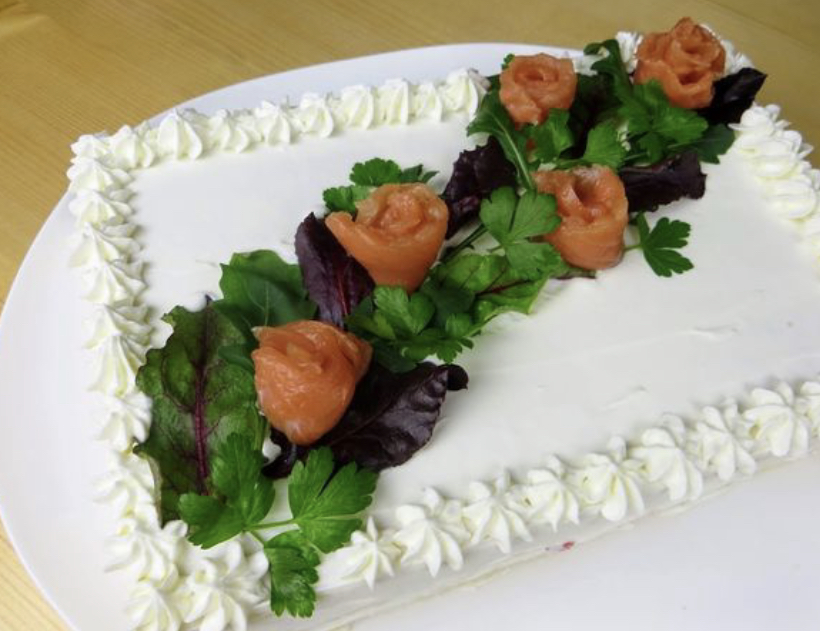 Another interesting and tasty snack recipe in our festive piggy bank! Snack sponge cake with fish filling – oh, delicious! Such a snack cake is prepared from biscuit cakes with capelin caviar, redfish, crab sticks, cheese, and eggs. Very easy, be sure to try!
Ingredients
For cakes:
Wheat flour – 50 g
Corn starch – 50 g
Sugar – 1 teaspoon
Eggs – 4 pcs.
Salt – 2 pinches
For filling:
Caviar (capelin caviar in sauce) – 150 g
Redfish (slightly salted) – 100 g
Crab sticks – 100 g
Hard cheese – 100 g
Eggs – 2 pcs.
Mayonnaise – 60 g
For decoration:
Curd cheese – 200 g
Sour cream – 1-2 tbsp
Directions
I will prepare the cakes for today's snack cake myself, nothing complicated here.
We turn on the oven and heat it to 180 degrees.
Beat the whites with a pinch of salt with a mixer, gradually adding sugar until a stable foam.
Beat the yolks lightly with a small pinch of salt and combine with a small part of the proteins.
Add flour with starch and mix gently from bottom to top.
Gently add the remaining proteins, mixing from bottom to top.
We spread the dough on a baking sheet with a sheet of parchment. I have siliconized parchment. If you have a regular sheet of parchment, coat it with oil.
We bake a sponge cake in a preheated oven for 10 minutes.
Let the cake cool on the wire rack.
Separate the cooled cake from the parchment.
Cut the cake into four equal rectangles.
While the dough is cooling, prepare the filling.

Combine caviar and mayonnaise to create a delicate sauce.
Put the cake on a dish and cover with sauce.
The first layer of filling is crab sticks grated on a coarse grater.
Cover with the second crust and grease with sauce again. On top, rub eggs and hard cheese on a fine grater.
Cover with the third cake, grease with sauce, and layout the last layer of filling – red fishplates (I have a home-salted trout). Layout in a dense layer.
On top of the last cake and a small load (a board and a pack of cereals weighing 0.5 kg), we leave for soaking for a couple of hours.
We use curd cheese and sour cream for decoration.
Mix well the sour cream with curd cheese and coat the snack sponge cake with fish filling on all sides.
We decorate the cake. You can decorate as you like. Today I have rucola leaves, beets and parsley, and small flower buds that I made from the remaining fish.
Place the remaining cream in a pastry bag with a nozzle around the peri of the cake.
A snack cake made of biscuit cakes with fish filling turns out to be very delicate in taste, it is perfectly cut and looks great in section!
Enjoy your meal!
Also Like
Comments for "Snack Sponge Cake with Fish Filling"