Sponge Cake
by Editorial Staff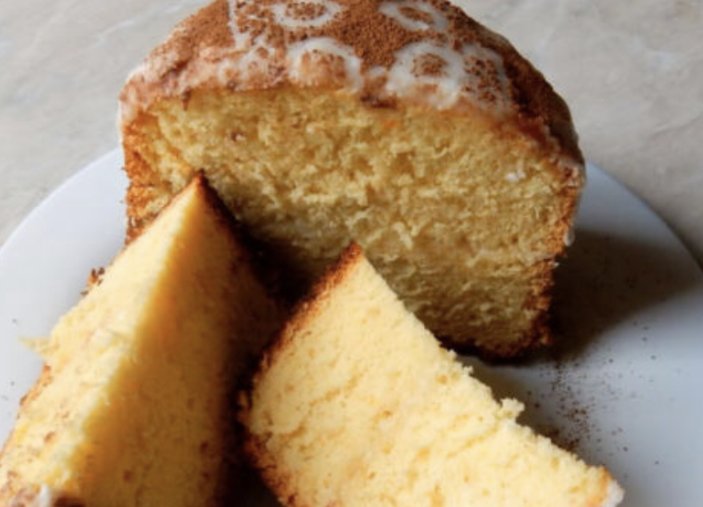 The biscuit cake is very fast. It is perfect if you want to please your loved ones with fresh homemade cakes.
Ingredients
Eggs – 6 pcs.
Yolks – 2 pcs.
Flour – 1 glass
Sugar – 1 glass
Baking powder – 1 teaspoon
Glaze with marzipan flavor (dry mix) – 1 pack
Vegetable oil – for lubricating the mold
Cocoa – for decoration
Directions
Separate the yolks from the whites.
Add 1/4 cup sugar to 8 yolks. Grind the yolks with sugar. Set aside.
Beat the whites of 6 eggs until fluffy, adding little by little the remaining sugar.
Add yolks to whites. Mix gently.
Add a teaspoon of baking powder to the flour. Gradually add the sifted flour to the eggs. Stir from top to bottom.
The dough is ready. Grease the mold with vegetable oil. Pour the dough into a mold.
Put in an oven preheated to 200 degrees. Then, after 15 minutes, reduce the temperature to 160 degrees. Bake for an hour.

An hour has passed, the biscuit is ready.
Prepare the icing for decoration. Pour the contents of the glaze package into a bowl. Add 2 tablespoons of water to this mixture. Mix.
Cut the biscuit to saturate it with glaze.
Grease the middle of the sponge cake with icing.

Also, glaze the top of the biscuit.
Decorate the biscuit cake with lace ribbons and cocoa: put two ribbons on the icing and sprinkle with cocoa. Then carefully remove the tapes.
The sponge cake is ready.
Enjoy your meal!
Also Like
Comments for "Sponge Cake"