Delicious Sponge Cake
by Editorial Staff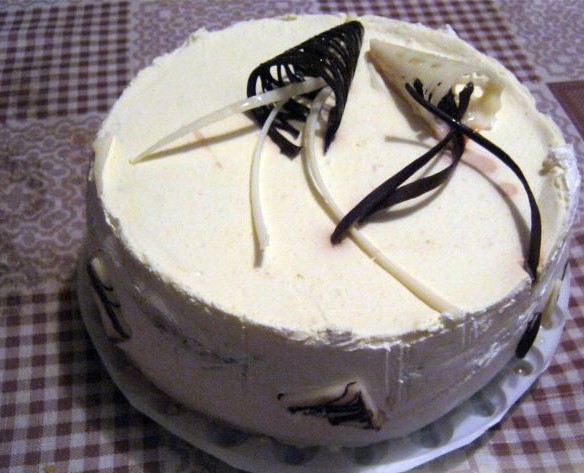 A chic cake based on a classic biscuit. I recommend this very delicate, airy, delicious biscuit cake for the holiday. For example, as baked goods for a birthday or as New Year's baked goods.
Servings: 8
Ingredients
Biscuit:
Sugar – 1 glass
Flour – 1 glass
Chicken egg – 4 pcs.
Vanillin – on the tip of a knife
Cream:
Egg yolk – 2 pcs.
Water – 50 g
Condensed milk – 1 can
Butter – 400 g
For decoration:
White chocolate – 30 g
Dark chocolate – 30 g
or a ready-made chocolate decoration
Directions
Turn on the oven. Sift flour. The butter should be at room temperature, remove from the refrigerator. Prepare a biscuit. To do this, separate the whites from the yolks. Beat the whites with a mixer until they become thick foam. Slowly 1 tablespoon. Pour sugar in a spoon and beat until a white airy mass.
Beat the yolks with a mixer, then add the yolks to the whites with a spoon, while continuing to beat the whites.
Add sifted flour with vanilla. Stir gently with a spoon from bottom to top. The dough should be very airy.
Grease the mold with butter and pour out the finished dough. Put the form on the middle shelf in an oven preheated to 190-200 degrees for 20-25 minutes (when baking a biscuit, do not open the oven door, otherwise it will settle).
Cool the finished biscuit in the form for 5 minutes, then turn over on a wire rack and leave for 3-4 hours.
Meanwhile, boil the cream. To do this, combine water with yolks and condensed milk. Mix well with a mixer or whisk. Put the mixture on low heat and cook, stirring occasionally, until thickened. Cool the thickened mixture. Beat butter with vanilla sugar. Now add the mixture to the butter, whipped with vanilla sugar. Add a little, whisking each time. The cream is ready.
Cut the biscuit into 3 layers with a sharp knife.
Collect the cake. Take a large flat dish, layout the first cake. Lubricate with cream. So coat each layer of the biscuit with cream. Also, coat the entire sponge cake on top and the sides too.
Melt separately white and separately dark chocolate. Make a sponge cake decoration to your liking. I didn't do it myself, I bought to fish in the store.
Let the biscuit soak. Delicious sponge cake is ready!

Enjoy 🙂
Also Like
Comments for "Delicious Sponge Cake"