Zucchini Snack Cake
by Editorial Staff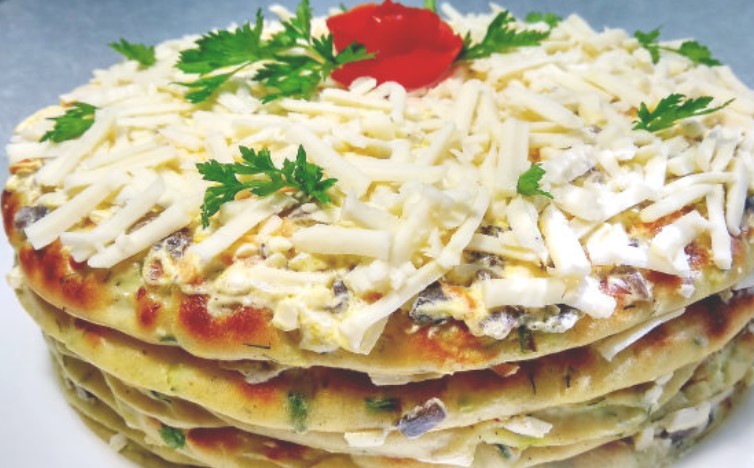 The zucchini snack cake turns out to be very juicy and mouth-watering. The combination of delicate cakes and cheese and mushroom filling will leave no one indifferent. It prepares quickly, looks presentable and tasty.
Cook: 1 hour
Servings: 8
Ingredients
For the test:
Zucchini – 500 g
Milk – 1 glass
Chicken eggs – 3 pcs.
Vegetable oil – 3 tbsp + for frying cakes
Green onion – 5 stalks
Fresh greens – 5 branches
Flour – 6-7 tbsp
Ground allspice – to taste
Ground black pepper – to taste
Salt to taste
Sugar to taste
Baking powder – 1 teaspoon
For filling:
Carrots – 1 pc.
Mushrooms – 7 pcs.
Processed cheese – 3 pcs.
Sour cream – 5 tbsp
Salt to taste
Ground black pepper – to taste
Garlic – 5 cloves
Vegetable oil – for frying mushrooms and carrots
Directions
Prepare products for a zucchini snack cake with mushrooms and cheese. For the filling, cut the mushrooms into small cubes, grate the carrots on a coarse grater, then fry the carrots with mushrooms in vegetable oil.

Finely chop the parsley and dill with a knife.
Chop green onions in the same way.
In a separate bowl, mix eggs and milk, beat with a whisk. Add sugar, pepper and salt – mix. Add chopped greens, stir. Pour in vegetable oil. Pour flour and baking powder in portions and mix until smooth. The dough should look like a pancake.
Peel the zucchini of the peel and seeds, grate on a coarse grater in a separate bowl.
Mix the courgettes with the cooked dough.
Pour oil into a frying pan, heat. Pour a portion of the dough with a ladle, spread evenly over the bottom of the pan with a spoon. Fry the zucchini snack cakes over low heat until golden brown on both sides.
Transfer the finished cakes to different plates for cooling.
Grate the processed cheese on a coarse grater. Leave a little cheese for decoration, add fried carrots with mushrooms, garlic, salt, black pepper passed through a press to the rest of the grated processed cheese and mix everything. Add a little sour cream and mix the filling.

Put the zucchini crust on the dish, on it – the filling with mushrooms and cheese. Spread the filling evenly over the entire surface of the crust. Do this with all the cakes and filling.
Decorate the top layer of the snack cake with the remaining grated melted cheese.
Decorate the finished zucchini cake with mushrooms and cheese and serve.
Bon Appetit!
Also Like
Comments for "Zucchini Snack Cake"