Chicken soup with Cabbage and Tomato Paste
by Editorial Staff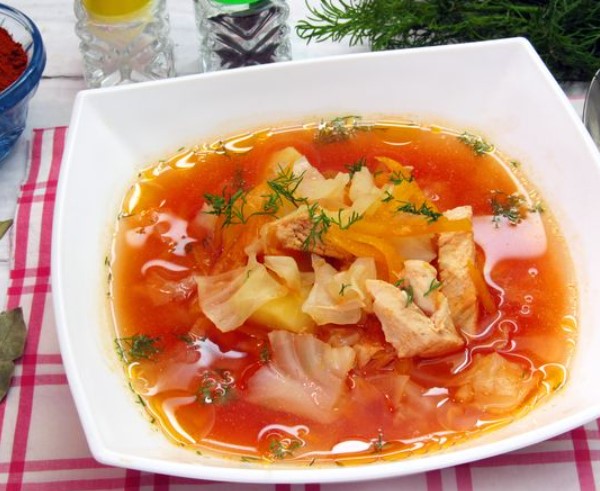 Delicious and light chicken soup with cabbage and tomato paste is very interesting and cooks quite quickly. No frying vegetables! But despite this, the soup has a rather rich and bright taste. Chicken soup with cabbage is prepared in chicken fillet broth with tomato paste. This flavorful, delicious soup will add variety to your lunch menu!
Servings: 5
Ingredients
Chicken fillet – 300 g
White cabbage – 200 g
Potatoes – 320 g
Onions – 100 g
Carrots – 100 g
Tomato paste – 50 g
Olive oil – 30 ml (2 tablespoons)
Ground sweet paprika – 1 teaspoon
Salt to taste
Bay leaf – 2 pcs.
Fresh dill – 15 g
Water – 1.5 l
Directions
Essential products.

Pour 1.5 water over the chicken fillet in a saucepan, add bay leaves and bring to a boil. After boiling, remove the foam, reduce the heat and cook the broth for 30-40 minutes.
Remove the finished fillet from the broth. We also remove the bay leaves from the broth.
Cut the fillet into small pieces, cover with cling film and set aside.
Cut the cabbage into small squares.
Peel and grate the carrots and onions.
Peel the potatoes and cut them into small cubes.
Add cabbage to the broth.
Simultaneously with the cabbage, add the potatoes to the broth.
And also add the grated onions and carrots. Cook the soup for 15 minutes.
Then add ground paprika to the soup.
Add tomato paste, salt and black pepper.

Pour in olive oil.
Add the chopped chicken fillet.
Cook the soup for another 10 minutes and turn off the heat.
Chicken soup with cabbage and tomato paste is ready. Grind the dill. Pour the soup into bowls. Add chopped dill to each serving.
Enjoy your meal!
Also Like
Comments for "Chicken soup with Cabbage and Tomato Paste"