Cabbage Stewed with Beans, Potatoes and Tomato Paste
by Editorial Staff
Sauerkraut, stewed with beans, potatoes and tomato paste is a simple and versatile dish of available ingredients that can be served on its own or as a side dish. Nutritious beans, succulent kale, and soft potatoes are a great lunch or dinner.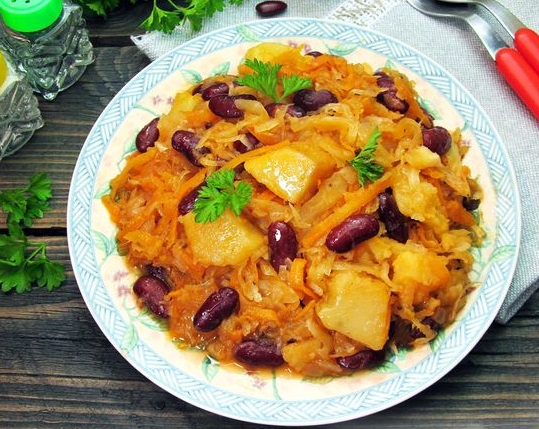 Servings: 7
Ingredients
White cabbage – 600 g
Red beans (dry) – 160 g
Potatoes – 600 g (3 pcs.)
Onions – 250 g (2 pcs.)
Carrots – 200 g (1 pc.)
Tomato paste – 70 g
Bay leaf – 1-2 pcs.
Vegetable oil – 60 ml (4 tablespoons)
Salt to taste
Ground black pepper – to taste
Dried Italian herbs (optional) – 1 teaspoon
Soda – 1 pinch
Directions
Boil the beans in advance. For faster cooking, you can pre-soak the beans in cold water for 5-6 hours (or overnight). I have beans of a fairly quickly boiled variety. I filled it with water, added 1 pinch of baking soda, and cooked for 60 minutes until fully cooked. After boiling with soda, I wash the beans! Beans need to try not to overcook so that the skin does not burst and remains intact.
Drain the water from the finished beans.
Chop the cabbage into strips.
At the bottom of a saucepan with thick walls or a cauldron, pour 1 tbsp of vegetable oil and spread the cabbage.

Add 200 ml of water and salt to taste.
Simmer cabbage over low heat, covered for 15-20 minutes.
Peel the potatoes, wash them, and cut them into large enough pieces.
Fry the potatoes in a frying pan preheated with the remaining vegetable oil for 7-10 minutes, until half cooked and golden brown. Stir occasionally.

Peel the onions and carrots. Cut the onion into cubes, grate the carrots on a coarse grater.
Add a bay leaf to a saucepan with cabbage.

Transfer the fried potatoes to a saucepan with cabbage. We leave the oil in which the potatoes were fried in a frying pan.
Add some salt to the potatoes.
Fry the onions in a frying pan for 5-7 minutes, until transparent.
Then add grated carrots to the onion.
Fry for about 5 minutes more, until golden brown.

Then add the tomato paste to the onions and carrots.
Pour 100 ml of water into the pan.
Simmer vegetables covered for 5-7 minutes.
Put the beans on top of the potatoes.
And then spread the onion and carrot frying on the beans. Add black pepper and Italian herbs (optional).
Add another 250 ml of water to the pan, bring to a boil and, without stirring, simmer under a lid over low heat for 7-10 minutes.

Then mix everything carefully and simmer for another 5-7 minutes.
Cabbage stewed with beans, potatoes, and tomato paste is ready.
Enjoy your meal!
Also Like
Comments for "Cabbage Stewed with Beans, Potatoes and Tomato Paste"