Fried Potatoes with Tomato Paste
by Editorial Staff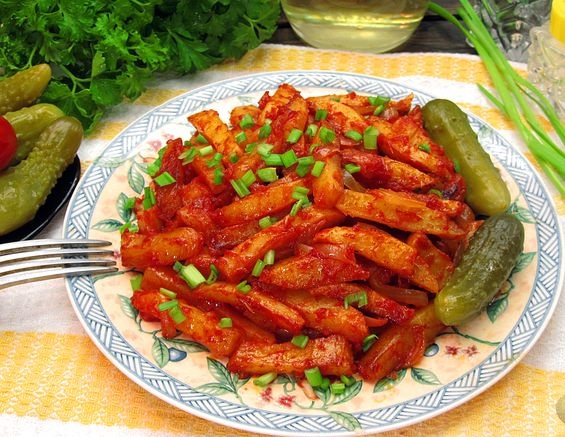 Fried potatoes are delicious, and fried potatoes with tomato paste are even tastier. The potatoes are browned with onions, and then soaked in tomato, acquiring a bright and interesting taste, and becomes softer and juicier. Everything is incredibly simple, try it!
Ingredients
Potatoes – 550 g
Bulb onions – 100 g (1 pc.)
Tomato paste – 70 g
Salt – 0.5 teaspoon (to taste)
Ground black pepper – to taste
Water – 130 ml
Vegetable oil (for frying) – 45 ml (3 tablespoons)
Green onions – 10 g (3-4 pcs.)
Directions
Peel the potatoes, wash them, dry them with a paper towel, then cut them into small pieces.

Peel the onions, wash them, dry them, and cut them into thin feathers or half rings.
Heat the vegetable oil in a frying pan and spread the potatoes.
Fry the potatoes, stirring occasionally, gently stirring over the heat slightly above medium for 7 minutes, until browned.
Then cover the pan with a lid, reduce the heat and fry the potatoes over low heat, gently stirring occasionally, for another 7-10 minutes, almost until tender.
Add the onions to the potatoes in the pan.
Mix everything and continue to fry under the lid for another 5 minutes.
Then salt and pepper the potatoes.
Dilute the tomato paste with water (130 ml).
Mix everything well until smooth.
Pour the diluted tomato paste into the potatoes.
Stir and fry for another 3-4 minutes.

Fried potatoes with tomato paste are ready. Put the potatoes on plates, sprinkle with chopped green onions if desired, and serve with pickles or fresh vegetables.
Bon Appetit!
Also Like
Comments for "Fried Potatoes with Tomato Paste"