Carrot Caviar with Tomato Paste
by Editorial Staff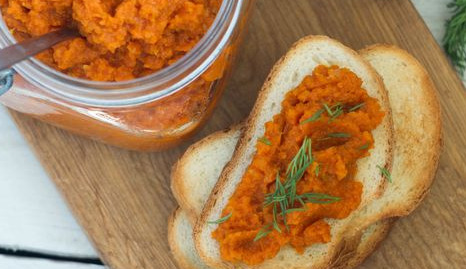 From affordable and inexpensive vegetables – carrots and onions – you get excellent homemade caviar! The addition of dried dill and tomato paste gives this caviar richness and great taste. The recipe is very simple!
Cook: 8 hours 20 minutes
Servings: 4
Ingredients
Directions
In a skillet, combine vegetable oil, tomato paste, and about 50-70 ml of water. Stir. You may need a little more or a little less water to get the consistency of thin sour cream.
Peel the onion, cut into small cubes, and send to the pan. Add salt, sugar, dried dill, and black pepper. Peel the garlic, chop coarsely and add to the pan as well.
Grate the peeled carrots on a coarse grater and send them to the pan. Stir gently and place on medium heat.
While stirring, bring the contents of the pan to a boil. If the carrots are dry and produce little juice, you can add a little more water. Then reduce heat to the low, cover skillet with a lid, and simmer vegetables for about 30 minutes.

Cool the finished carrots a little and transfer them to a blender bowl.
Beat the caviar until moderately smooth. Small pieces of vegetables may not be crushed. Refrigerate caviar for a few hours or overnight for an even richer taste.
If desired, ready-made carrot caviar can be served on slices of bread, lightly dried in a pan.
Bon Appetit!
Also Like
Comments for "Carrot Caviar with Tomato Paste"