Mushroom Caviar
by Editorial Staff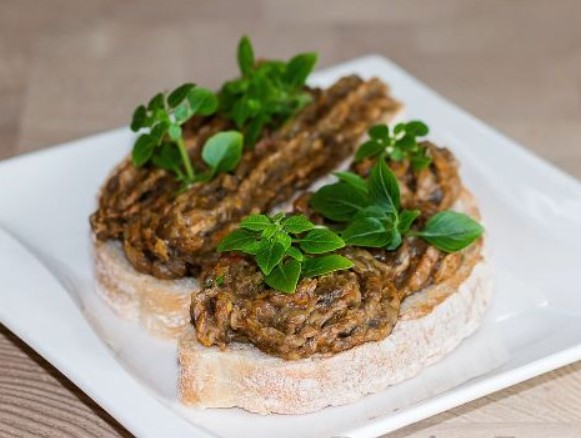 Mushroom caviar can be cooked one time for sandwiches or as an additional side dish. Can be used as a snack, pâté. Or you can prepare mushroom caviar for the winter.
Ingredients
Mushrooms – 500 g
Small onions – 2 pcs.
Tomato – 1 pc.
or tomato paste – 1-2 tbsp
Garlic – 1 clove
Salt to taste
Ground black pepper – to taste
Sugar to taste
Vegetable oil – for frying
Vinegar (for blanks) – 1 teaspoon. for a 0.5 liter can
Directions
Prepare products for mushroom caviar. Fresh mushrooms need to be sorted out, rinsed, coarsely chopped and boiled in boiling slightly salted water for 15 minutes. Then fold over a sieve.

Peel the onion, cut into large cubes. Peel the garlic, chop finely.
Core the tomato. Coarsely chop the tomato pulp.
Fry vegetables in a preheated, greased frying pan in this order. First, fry the garlic over a sufficiently high heat for 15-30 seconds. Add onion, fry for 1-2 minutes.
Add the tomatoes, fry for another 1-2 minutes.
Add mushrooms to vegetables.
Fry everything together for 5-7 minutes.
Pass the mass through a meat grinder and return to the pan.
Bring to a boil and simmer mushroom caviar over low heat for 25-30 minutes, stirring occasionally.
After that add salt, pepper, a little sugar, you can add a little vinegar. If the taste of mushroom caviar suits you, warm it up for another 5 minutes.
On this, caviar from mushrooms and vegetables is ready. From the specified amount of products, 370 g of mushroom caviar was obtained. If you want to prepare mushroom caviar for the winter, add vinegar at the rate of 1 teaspoon. for a 0.5 liter can. Sterilize half-liter jars of mushroom caviar for half an hour, then roll up.
Enjoy your meal!
Also Like
Comments for "Mushroom Caviar"