Sandwiches with Tuna and Caviar
by Editorial Staff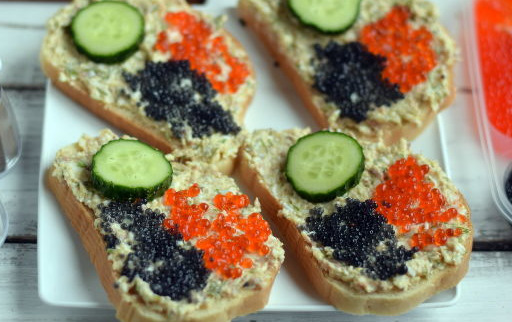 If you are planning a solemn feast or just a gathering with friends, then delicious sandwiches with tuna, processed cheese, and seaweed caviar will be very useful, which will make the sandwiches festive.
Ingredients
White bread – 5-6 pieces
Canned tuna – 150 g
Processed cheese – 100 g
Seaweed caviar (different colors) – 70 g
Eggs – 1 pc.
Fresh cucumber – 1 pc.
Fresh dill – 1 bunch
Grain mustard – 1 teaspoon
Parsley – for decoration
Sesame seeds – 1 pinch
Salt – 1 pinch
Ground black pepper – 1 pinch
How to make tuna and caviar sandwiches:
Directions
The first step is to make a spread on the bread. Transfer the processed cheese into a deep bowl, add a teaspoon of grain mustard to it, mix so that the mustard is completely combined with the cheese.
Boil a hard-boiled egg in advance, then cool slightly in cold water, peel, grate on a fine grater. Add the egg to the cheese, mix the ingredients.
Add canned tuna there, after draining excess oil.
Rinse the dill, dry it on a towel, separate the leaves from the twigs, chop finely. Then add greens to the bulk, mix vigorously. Taste the mixture, if necessary, season with salt and pepper.

Put the loaf slices on a plate. The loaf must be fresh, not crumble or break. Apply the prepared spread on the bread slices, use a knife to evenly smooth it around the entire peri with a slice.
Cut the cucumber into slices of medium thickness, lay on one side of the sandwiches. Sprinkle the cucumber with sesame seeds. Spread the other side with seaweed caviar (as shown in the photo). It is better to use caviar in two colors, so it will be more beautiful, and therefore more appetizing. Sandwiches with tuna, cream cheese, and caviar are ready.
Bon Appetit!
Also Like
Comments for "Sandwiches with Tuna and Caviar"