Sandwiches with Caviar and Salmon
by Editorial Staff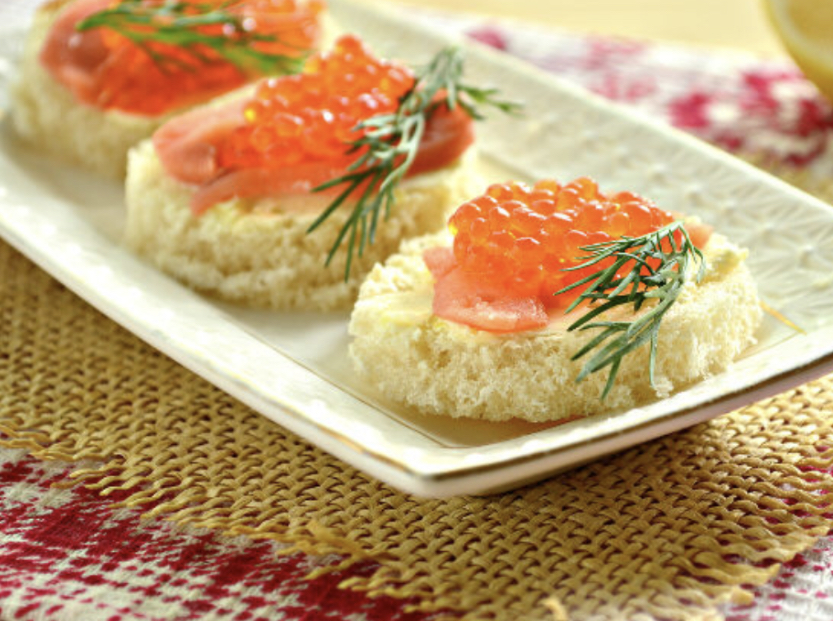 The festive table is an abundance of various dishes, among which special attention is paid to snacks. You can replenish the menu for the holiday with delicious snack sandwiches with red caviar and lightly salted salmon.
Ingredients
Bread (loaf) – 200 g
Butter – 100 g
Lightly salted salmon – 100 g
Lemon – 1 pc.
Red caviar – to taste
Directions
we take the necessary ingredients according to the list. The butter for the recipe must be softened, so it is recommended to get it from the refrigerator shelf in advance.

Rinse the lemon thoroughly. Remove the zest from the citrus, which is then rubbed.
Squeeze juice from half a lemon.
Add lemon zest and two tablespoons of juice to softened butter.
Mix the ingredients well. It is best to use a blender. The butter with a lemon "hint" for sandwiches is ready.

Cut the fish into small thin slices.
Cut the bread or loaf into pieces of a triangular or, as in our recipe, round.
Lubricate the bread slices with lemon-flavored butter.
We spread further on each slice pieces of the salmon.
It remains to put the red caviar on the sandwich (the quantity is optional).
Additionally, sandwiches with caviar and salmon can be decorated with a sprig of fresh herbs.
An appetizer for the festive table is ready! These festive sandwiches will certainly become favorites.
Enjoy your meal!
Also Like
Comments for "Sandwiches with Caviar and Salmon"