Carrot Caviar with Vegetables and Herring
by Editorial Staff
Carrot caviar with vegetables and herring is an excellent appetizer that will not only decorate the festive table but also very healthy, as it is prepared from vegetables that form the basis of a healthy diet.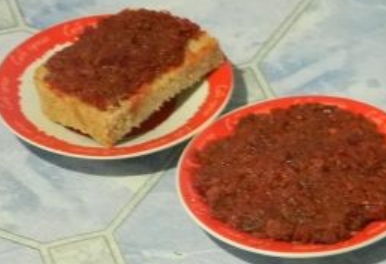 Ingredients
Carrots – 3 pcs.
Potatoes – 1 pc.
Beets – 1 pc.
Onions – 3 heads
Salted herring – 3 pcs.
Vegetable oil – 0.5 cups
Tomato sauce – 0.25 cups
Bay leaf
Pepper to taste
Directions
Raw vegetables – carrots, beets and potatoes – finely grate.
Finely chop the onions and herring. It is allowed to pass all the ingredients through a meat grinder.
Next, pour sunflower oil into a saucepan or other dish, put chopped vegetables and herring into it, put on low heat and, stirring, simmer until tender.
At the end of stewing, add bay leaves and pepper to taste.
Carrot caviar prepared in this way can be used as a cold snack. You can spread carrot caviar on black or white bread and get delicious sandwiches for breakfast or afternoon tea.
Carrot caviar is very good for vegetarian cuisine and is also one of the best meals for any fast and, along with other snacks, is recommended for those who value their health.
Another advantage of carrot caviar is that it can be prepared for future use, since it can be stored in the refrigerator for a long time in a sealed container and used for quick cooking, for example, breakfast, afternoon tea or dinner.
Enjoy your meal!
Also Like
Comments for "Carrot Caviar with Vegetables and Herring"