Vegetable Caviar (squash) without Hassle
by Editorial Staff
All vegetables are baked in the oven, no need to stand at the stove … You just need to stir 1-2 times and that's it. Easy, simple, and delicious!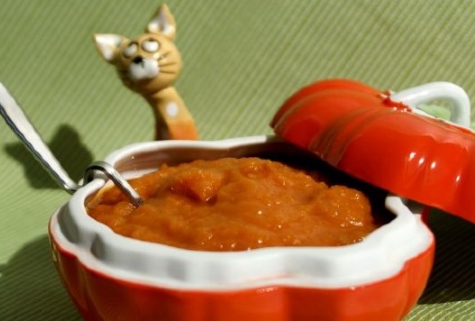 Servings: 12
Cook: 2 hours 40 mins
Ingredients
Medium zucchini – 2 pcs. (400-500 g)
Onions – 2-3 pcs. (200-250 g)
Carrots – 3 pcs. (200-250 g)
Sweet pepper – 4-5 pcs. (500-600 g)
Tomatoes – 400-500 g
Salt to taste
Pepper to taste
Garlic – 5 cloves (20 g)
Vegetable oil – 3-4 tbsp (50 g)
Dill greens – to taste
Directions
Wash, peel, cut vegetables at random (carrots – into circles, onions – into rings). Pepper to remove seeds, cut out the place of the stalk in tomatoes.
We spread the vegetables in a deep form in the following sequence: onions, carrots, zucchini. Drizzle with vegetable oil, salt a little. Put whole peppers and tomatoes on top.

We bake in the oven at 190 degrees for an hour and a half. Mix the vegetables during the baking process. Move the pepper and tomatoes to the side, and stir the vegetables with a spoon from bottom to top.

At the same time, turn the pepper.
We bake vegetables until tender. Let them lightly "tan" the top, this will give the caviar a special taste.
Let the prepared vegetables stand in the turned-off oven for 20 minutes.
Shake out the peppers and tomatoes from the peel – just pull it slightly and it will peel off easily.
Further, all vegetables must be chopped in a blender or food processor along with the released juice.
In the process of chopping, add fresh garlic and dill.
Pour the prepared caviar into a saucepan, add salt and pepper to taste. Bring the squash caviar to a boil and pour into jars, cool. This is a non-storage option for squash caviar.
If you need to store for a long time, then pour boiling squash caviar into prepared jars and immediately roll-up.

The second version of the same caviar – in slices and with fresh tomatoes. In this case, we bake all the vegetables, except for tomatoes and garlic, then chop everything with a knife, squeeze the garlic through a press, finely chop the dill, salt, and pepper to taste. It is very tasty, but such caviar does not last long.
We loved both varieties of squash caviar!
Also Like
Comments for "Vegetable Caviar (squash) without Hassle"