Eggplant or Squash Caviar from Baked Vegetables in a Slow Cooker
by Editorial Staff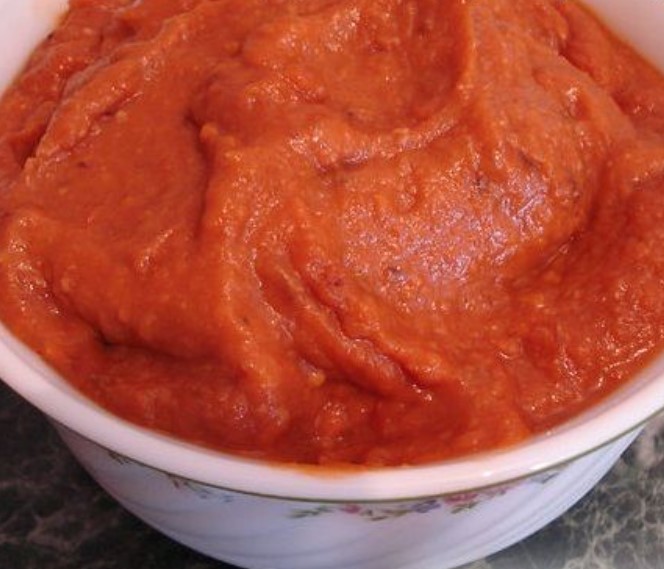 A quick recipe for eggplant caviar for housewives who use their time wisely))
Ingredients
Eggplant or zucchini – 3 pcs. (Or both can be equally divided)
Bulgarian pepper – 2 pcs.
Tomatoes – 3 pcs.
Carrots – 1 pc.
Onion (large) – 1 pc.
Garlic – 1 clove
Greens – a bunch (to taste)
Salt to taste
Sugar – 1 tablespoon
Sunflower oil
Directions
Cut several eggplants or zucchini (or both) into large circles. We do the same with the rest of the vegetables: carrots, onions, bell peppers. I cut one tomato and grate the rest. It is better to do as I wrote, for the reason that vegetables and eggplants will be baked all at once, and not separately in a pan. Eggplants are in layers at the bottom of the multicooker bowl. Add salt, pepper, sugar and vegetable oil immediately. Chop the garlic, but add it at the end of the eggplant cooking (if you like eggplant caviar with garlic). Cooking baked eggplants and vegetables in a multicooker couldn't be easier! We turn on our multicooker to the "baking" mode and cook eggplants with tomatoes, onions, bell peppers and carrots in it for 60 minutes.
These are such beautiful baked eggplants and vegetables in a slow cooker.

Baked eggplant with tomatoes can even be served simply as an eggplant appetizer or vegetable stew. Grind baked eggplants and vegetables in mashed potatoes using a meat grinder or blender. Such caviar will look more like a store caviar. But only outwardly, the taste of eggplant caviar will be much higher!
Put the baked eggplant and vegetable puree into a salad bowl and chill. And I will not refuse such delicious eggplant caviar from a multicooker with a slice of homemade bread or a bar!
Bon appetit!
Also Like
Comments for "Eggplant or Squash Caviar from Baked Vegetables in a Slow Cooker"