Cabbage Stewed with Apple, Celery and Tomato Paste
by Editorial Staff
Even the simplest cabbage stew can be made very interesting by adding just an apple and some root celery. And if you stew it at the end with the addition of tomato flour dressing, then the cabbage will be even juicier and softer, with a pleasant sourness.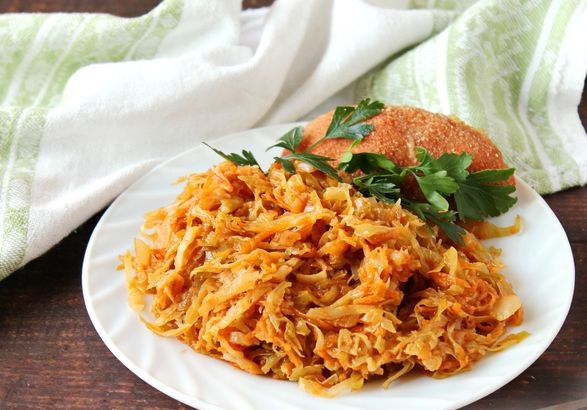 Cook: 45 minutes
Servings: 4
Ingredients
White cabbage – 500 g
Apple – 120 g (1 pc.)
Root celery – 30 g
Carrots – 80 g (1 medium-sized)
Onions – 70 g (1 medium-sized)
Garlic – 2 cloves
Tomato paste – 1 tbsp
Flour – 1 teaspoon
Salt – 0.5 teaspoon (to taste)
Ground black pepper – a pinch (to taste)
Sugar – 0.5 teaspoon (if necessary)
Vegetable oil – 1 tbsp
Directions
Peel and finely chop the onions. Pour vegetable oil into a skillet and heat over medium heat. Place the onions in a skillet and sauté for 5 minutes, stirring.
Peel and chop the garlic, put in a pan with fried onions.

Peel the root celery and grate on a medium grater. Add to skillet.
Peel and grate the carrots on a medium grater. Place the carrots in the skillet with the vegetables already sauteed.
Peel and core the apple. Cut the apple into large strips and add to the vegetables.

Stir, cover the skillet with a lid and simmer the contents over low heat for 5 minutes.
Finely chop the cabbage and place in a pan with vegetables and an apple. Season everything with salt and pepper.

If the pan is low on liquid, add 50 ml of water. Cover and simmer for 20 minutes, stirring once every 10 minutes.
Add tomato paste to 125 ml of water and stir until smooth. If the paste is a little sour, you can add some sugar and stir.
Pour flour into the tomato mixture.
Mix everything until smooth.

Pour the tomato flour mass into the pan with the vegetables and stir.
Cook the contents of the pan for 10 minutes over low heat. Remove from heat and serve cooked cabbage stewed with apple, celery and tomato paste to the table.
Enjoy your meal!
Also Like
Comments for "Cabbage Stewed with Apple, Celery and Tomato Paste"