Chicken Soup with Green Tomatoes and Cabbage
by Editorial Staff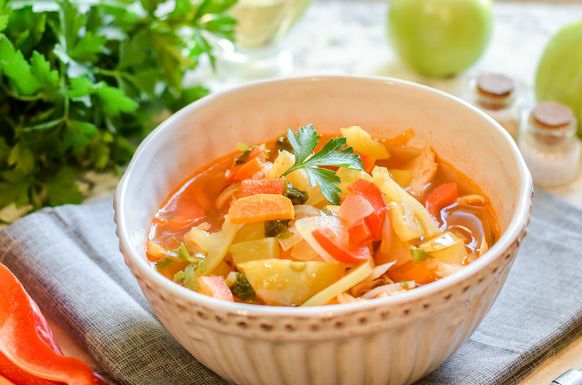 We used to salt, ferment, pickle green tomatoes. But there is another option where you can use them – we are preparing a very tasty soup with green tomatoes and cabbage. Yes, do not be surprised, tomatoes just perfectly fit the taste into this dish. The soup turned out to be thick and rich. As a meal for the whole family, this is a great option.
Ingredients
Chicken fillet – 250 g
Green tomatoes – 250 g
White cabbage – 250 g
Bulgaria pepper – 100 g
Potatoes – 250 g
Carrots – 70 g
Onions – 70 g
Tomato paste – 60 g
Fresh parsley – 10 g
Salt to taste
Ground black pepper – to taste
Vegetable oil – 3 tbsp
Water – 1.7 l
Directions
Prepare all products according to the list. Chicken fillet can be replaced with any part of the chicken. Peel and wash onions, carrots, potatoes and bell peppers. Cut the chicken fillet into small pieces. Put fillets in a saucepan, add water and put on fire. Bring to a boil, remove foam and cook broth over low heat for 20 minutes.

Cut the potatoes into medium pieces and send them to the pot with fillets. Cook for 10 minutes. During this time, while potatoes and chicken are being cooked, cut onions into cubes, carrots into semicircles (or grate on a coarse grater). Cut the pepper into small strips or cubes. Peel green tomatoes, cut out the place where the stalk is attached. Cut the tomatoes into thin slices. Dilute tomato paste in 70-100 ml of water. Heat vegetable oil in a frying pan, put onions, carrots, peppers and green tomatoes. Fry for 4-5 minutes over low heat. Pour tomato paste diluted with water into a pan and simmer vegetables for 5 minutes.
Wash cabbage and chop into strips. Add the cabbage to the pot with boiled potatoes and chicken. Then add the vegetable dressing to the pan. Add salt and ground black pepper. Cook the soup for 10-15 minutes. Chop the parsley and add to the soup at the end of cooking. You can serve chicken soup with green tomatoes and cabbage with sour cream and herbs.
Enjoy your meal!
Also Like
Comments for "Chicken Soup with Green Tomatoes and Cabbage"