Chicken Soup with Green Peas and Cheese Dumplings
by Editorial Staff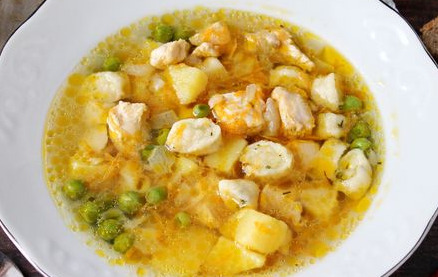 A simple chicken soup with vegetables is perfectly complemented by frozen green peas and cheese dumplings. The dough for dumplings is prepared with melted cheese. Soup made from chicken, potatoes, onions, carrots, and peas turns out to be tastier and more satisfying.
Servings: 6
Ingredients
Chicken fillet – 300 g
Frozen green peas – 30 g (2 tablespoons)
Potatoes – 250 g (2-3 pcs.)
Carrots – 60 g (1 small)
Onions – 50 g (1 pc.)
Salt to taste
Vegetable oil – 30 ml (2 tablespoons)
Water (hot) – 1.5 l
For dumplings:
Egg – 1 pc.
Processed cheese – 40 g
Salt – 2 g (1/4 teaspoon)
Flour – 80 g (0.5 cups of 250 ml)
Fresh dill – 2 g
Directions
Break an egg into a bowl and add the processed cheese.
Mix everything until smooth.
Finely chop the dill and add to the bowl with the egg-cheese mass, mix.
Sift flour into a bowl and knead to a soft, non-sticky dough.
Divide the dough into 2-3 pieces and roll them into sausages. Cut the dough sausages into small dumplings.
Peel and chop the onions. Heat the oil in a heavy-bottomed saucepan and add the onions.
Peel and grate the carrots on a medium grater.
Cut the chicken fillet into slices. Add the chicken to the vegetable stock.
Fry everything, stirring, for 10 minutes over medium heat.
Peel and cut the potatoes into medium cubes. Add the potatoes to the vegetable and chicken pot and stir.
Pour hot water into a saucepan, bring to a boil and cook the chicken and vegetable soup for 15 minutes.
Next, layout the green peas without defrosting.
Add cheese dumplings to the boiling soup and cook over medium heat for 5-7 minutes, until tender. Remove from heat.
Enjoy your meal!
Also Like
Comments for "Chicken Soup with Green Peas and Cheese Dumplings"