Chicken Soup with Fried Cheese Dumplings
by Editorial Staff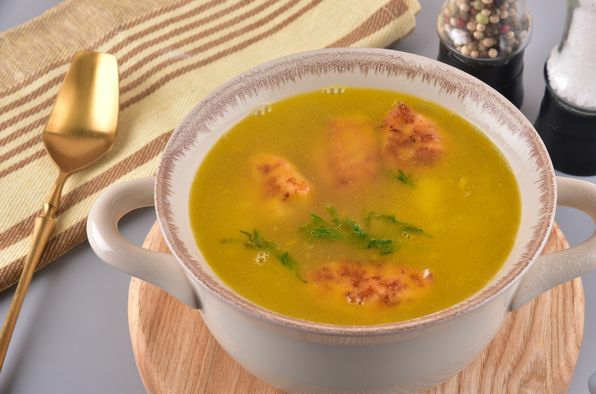 Incredibly delicious chicken soup with unusual fried dumplings will become one of your favorite first courses!
Cook: 2 hour
Servings: 6
Ingredients
Chicken (any part) – 500 g
Potatoes – 2 pcs. (300 g)
Carrots – 1 pc. (100 g)
Bulb onions – 1 pc. (100 g)
Vegetable oil – 2 tbsp
Salt – 1 pinch
Ground black pepper – 1 pinch
Water – 1.5 l
*
For dumplings:
Egg – 1 pc.
Hard cheese – 50 g
Sour cream – 2 tbsp
Flour – 150-180 g
Salt – 1 pinch
Ghee butter (for frying) – 2 tbsp
Directions
First, let's cook the broth. Pour the chicken in a saucepan with 1.5 liters of cold water, bring to a boil, remove the foam. We will simmer for 1.5 hours. Peel the carrots and grate them on a coarse grater. Peel and finely chop the onions. Heat vegetable oil in a frying pan and put onions and carrots. Fry over medium heat, stirring occasionally, for 10-15 minutes. Add 2 tbsp of broth from the pan and simmer for another 2 minutes.

We take the chicken out of the finished broth, cool it a little, separate the meat from the bones and skin. Divide the meat into small pieces. Put the chicken back in the broth and let it boil. Peel the potatoes, cut into cubes. Put the potatoes in the broth and cook for 20 minutes. Add frying to the soup.
For cooking dumplings, grate cheese on a coarse grater. Break the egg into a deep bowl, add sour cream, grated cheese and salt. Beat lightly with a fork. Gradually add flour. Add enough flour to get a rather tight, but not hard dough. Roll up two sausages. Cut into small pieces. Melt the butter in a frying pan and add the dumplings. Fry on both sides until golden brown. Put the dumplings in the soup. Add salt and black pepper. Cook for 2 minutes. Pour the finished soup into bowls and serve.
Enjoy your meal!
Also Like
Comments for "Chicken Soup with Fried Cheese Dumplings"