Chicken Soup with Fried Noodles
by Editorial Staff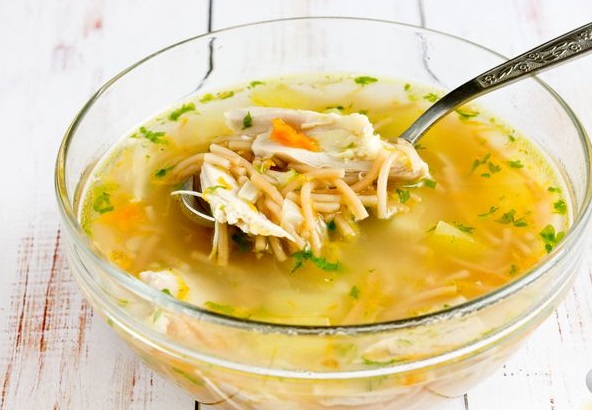 An excellent chicken soup with its own distinctive feature – with fried noodles! It is due to the fried vermicelli that the soup acquires an unusual taste, a beautiful yellow color. Moreover, such vermicelli does not swell and does not boil in broth. The soup is easy and quick to prepare, perfect for a family dinner.
Ingredients
Chicken (thigh or other part) – 200 g
Potatoes – 200 g
Vermicelli – 80 g
Bulb onions – 0.5 pcs.
Carrots – 0.5 pcs.
Sunflower oil – 50 ml
Bay leaf – 1 pc.
Fresh parsley (or other herbs) – to taste
Salt to taste
Ground black pepper – to taste
Water – 1.5 l
Directions
Prepare all the ingredients needed to make the toasted noodle chicken soup.

Rinse the chicken thigh or any other part of the chicken carcass, transfer to a saucepan, and cover with clean cold water.
Place the pot over high heat. Bring water to a boil, reduce heat, and cook the chicken stock for 10 minutes.
Peel the potatoes and cut them into cubes or arbitrary slices.
Transfer the potato slices to the broth. Let the broth boil again, reduce heat, and leave to simmer until the potatoes are tender (20 minutes).
Meanwhile, peel the onions and carrots. Cut the onion into small cubes. Grate the carrots on a fine grater.
Heat the sunflower oil in a skillet and fry the onions and carrots for about 3 minutes, stirring occasionally, over high heat. Transfer the finished frying to a plate, wipe the pan with a napkin.
Pour some sunflower oil into a frying pan, heat it up and add the vermicelli.
Fry the vermicelli, stirring continuously, over medium heat until caramelized. Vermicelli is fried quickly, do not overdo it. Transfer the toasted noodles to a plate to stop heating.
When the potatoes are boiled, salt the broth and remove the chicken thigh from it.
Put frying and noodles into the soup.
Let the soup simmer.
Remove the chicken meat from the bone and disassemble it into fibers.
Add chicken to soup. Also, add bay leaves. Cook the chicken noodle and potato soup for about 3 minutes.
At the end of cooking add chopped herbs and black pepper to the soup.
Stir the soup one last time and remove the pot from the stove.

Chicken soup with fried noodles and potatoes is ready.
Enjoy your meal!
Also Like
Comments for "Chicken Soup with Fried Noodles"