Chicken Noodle Soup
by Editorial Staff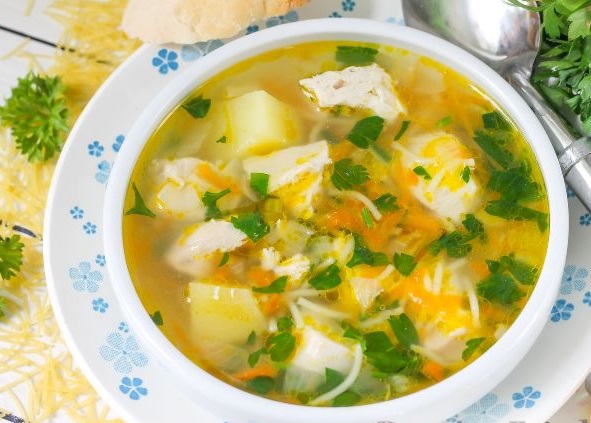 Chicken noodle soup is the first dish that both children and adults will gladly eat. The chicken fillet soup recipe is very simple.
Ingredients
Chicken fillet – 2 pcs. (500 g)
Potatoes – 2-3 pcs.
Carrots – 1 pc.
Bulb onions – 1 pc.
Vermicelli – 100 g
Bay leaf – 2 pcs.
Ground black pepper – 2 pinches (to taste)
Salt – 3 pinches (to taste)
Vegetable oil – 2 tbsp
Water – 2 l
Directions
Prepare the ingredients for your chicken noodle soup. Peel the vegetables, wash.

Wash the chicken fillet, dry it, cut the film from the fillet and cut it coarsely.
Place the chicken in a saucepan, cover with cold water, add bay leaves. Bring to a boil and remove the foam. Cook the chicken fillet for about 15 minutes, then place the fillet pieces on a plate.
Grate the carrots on a coarse grater.
Cut the onion into small cubes.
Heat vegetable oil in a frying pan and fry the chopped onion in it for about 2-3 minutes.
Add grated carrots to the onion, stir and fry the onions and carrots for another 2 minutes.
Cut the potatoes into medium cubes or sticks.
Cut the chicken fillet into pieces.
Add potatoes to the stock and cook for about 10 minutes.
Then add the cooked fry.
Add a chicken fillet to the vegetable soup.
Pour noodles into the chicken soup, mix gently, adding salt and pepper to taste.
Cook chicken noodle soup for 5-7 minutes. If desired, you can add washed chopped parsley to the soup.

Let the hot chicken noodle soup steep for a few minutes, pour the soup into deep bowls, sprinkle with fresh herbs, and serve.
Enjoy your meal!
Also Like
Comments for "Chicken Noodle Soup"