Chicken Noodle Soup with Egg
by Editorial Staff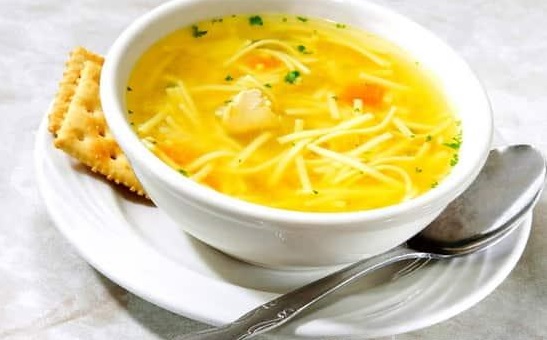 This mouth-watering chicken noodle soup with egg and milk pancakes is a versatile meal for the whole family. The soup is prepared quite simply, but it turns out delicious and satisfying.
Ingredients
Chicken (any parts) – 450 g
Noodles – 100 g
Onions – 80 g
Carrots – 100 g
Eggs – 3 pcs.
Milk (or water) – 30 ml
Garlic – 2 cloves
Fresh dill – 15 g
Salt to taste
Ground black pepper – to taste
Vegetable oil – 15-30 ml (1-2 tablespoons) + 20 ml for frying pancakes
Water – 2.4 L
Directions
Essential products.
For cooking, you can take any parts of the chicken, I used chicken thighs.

Pour the thighs in a saucepan with water, bring to a boil, remove the foam and cook for about 40 minutes.
Peel the onions and carrots. Cut the onion into cubes, rub the carrots on a coarse grater.

Heat 1-2 tablespoon in a frying pan. tablespoons of vegetable oil and fry the onions with carrots for 4-5 minutes until golden.
Combine eggs and milk (or water) in a bowl. Add salt.
Whisk the eggs and milk until smooth.
Heat the remaining vegetable oil (20 ml) in a frying pan and pour out 1/3 of the egg mixture. Fry a thin omelet for 1-2 minutes until browning.
Turn the omelet pancake over and fry for 1-2 minutes on the other side. Fry the rest of the pancakes in the same way.
Put the finished pancakes on top of each other and cut them lengthwise into several parts.
Then cut across into small thin strips.
You should get these egg pancake noodles.
Remove the finished thighs from the broth, filter the broth.
Separate the chicken meat from the bones and cut it into strips or pieces.
Bring the broth to a boil again and add the fried carrots and onions to it and add the noodles. Cook the soup over low heat for 5 minutes.
Then add the egg pancakes.
Simultaneously with the pancakes, lay the chicken meat.
We clean the cloves of garlic and pass them through a press. Add chopped garlic, salt, and black pepper to the pan.
Bring the soup to a boil and remove from heat. Cover the pot with a lid and let stand for 20-30 minutes.
Finely chop the dill greens.
We pour the ready-made soup into plates, add chopped dill to each portion. Bon Appetit!
Also Like
Comments for "Chicken Noodle Soup with Egg"