Chicken Soup with Homemade Noodles
by Editorial Staff
In this recipe, I'll show you not only how to make a delicious noodle soup, but also how to make the noodles themselves. It can be used both in soups and as an independent dish.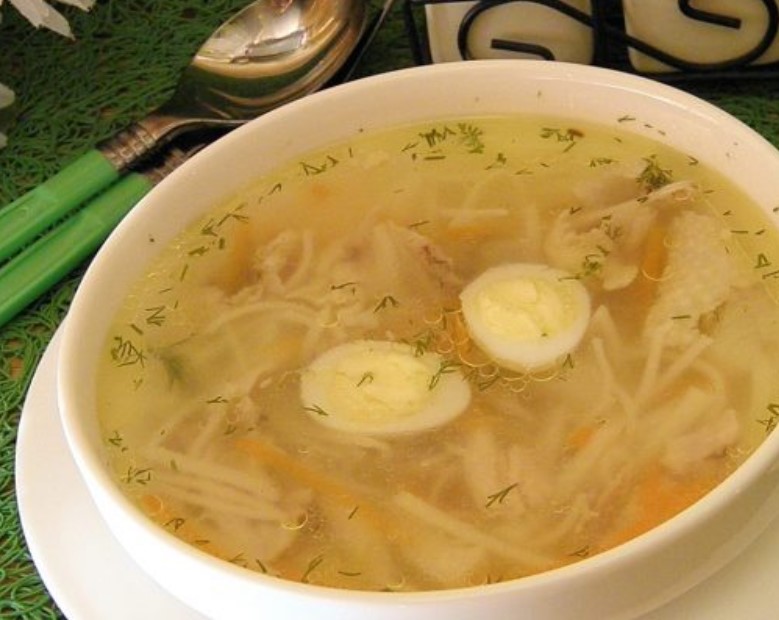 Cook: 3 hour
Servings: 8-10
Ingredients
Egg – 4 Pieces (for noodles)
Salt – 0.5 Teaspoons (for noodles)
Wheat flour – To taste (how much noodle dough will take)
Leg – 2 Pieces (for soup)
Onions – 1 Piece (for soup)
Carrots – 1 Piece (for soup)
Bay leaf – 2 Pieces (for soup)
Peppercorns – 5-6 Pieces (for soup)
Salt – To taste (for soup)
Directions
First you need to prepare the noodles for the soup. This will require eggs, salt and flour. It is difficult to name the exact amount of flour, much depends on the quality of flour, moisture content, grade, etc.
Take a deep, comfortable dish. Break the eggs in there. Add salt.
Beat well with a whisk to combine the yolks with the whites and salt.

Pour flour in portions and begin to knead the dough.
When the dough is very tough, place it on a floured table. And keep kneading.
You should get such an elastic tight bun.
Cut a small piece of dough, dust the table with flour. Roll out as thin as possible, the dough should show through. Cover the surface for drying noodles with natural cotton cloth. Leave the circles to dry.
Roll the dough into a tube and use a sharp knife to cut the noodles into desired pieces. The soup noodles are ready. 4 eggs make a large enough amount of flour, enough for 3 soups. Lay the chopped noodles to dry on the fabric until cooked. Then store in a bag or box.
Let's move on to cooking the soup. Wash the meat thoroughly, peel the vegetables, prepare the spices for the broth.
Put meat, salt, spices in cold water. Bring to a boil and simmer for 30 minutes.
Prepare vegetables for cooking: chop finely.
Add vegetables to meat after boiling for 30 minutes. And boil together for another 15 minutes.
Remove the meat and separate it from the bones. with the help of two forks this can be easily done. Tear the meat into pieces. Return to broth.
At the very end of cooking, add the noodles and cook for 2 minutes. This time is enough for homemade thin noodles.

Add herbs and turn off heat. The soup is ready!
Serve chicken noodle soup with boiled chicken or quail eggs.
Bon appetit!
Also Like
Comments for "Chicken Soup with Homemade Noodles"