Soup with Chicken, Potatoes, and Noodles
by Editorial Staff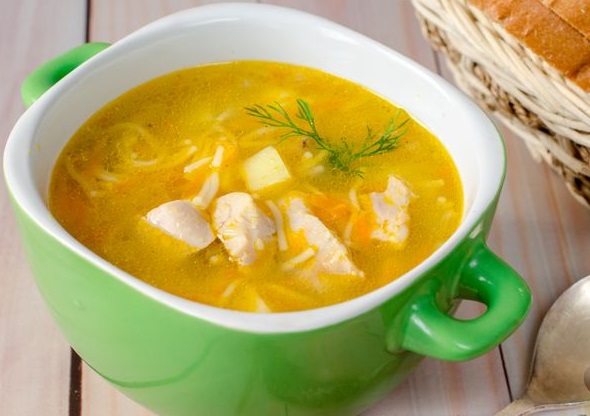 Soup with chicken, potatoes, and noodles is a great solution for a hearty lunch. Preparing such a dish is simple, you need regular products and less than an hour. Chicken soup with potatoes and noodles turns out to be rich, aromatic, and very tasty.
Ingredients
Chicken drumsticks – 600 g
Potatoes – 600-700 g
Carrots – 100 g
Onions – 70 g
Vermicelli (spider web) – 30-50 g
Bay leaf – 2 pcs.
Vegetable oil – 2 tbsp
Salt to taste
Ground black pepper – to taste
Directions
We prepare all the necessary products.

Thoroughly rinse the chicken drumsticks, put them in a saucepan, and pour 2-2.5 liters of water. Bring to a boil over high heat, then reduce the heat and cook the chicken drumsticks for 15-20 minutes. Periodically remove the foam with a slotted spoon.
Peel the onions and carrots.
Cut the onion into small cubes.
Three carrots on a coarse grater.
In a frying pan in vegetable oil, fry the onions and carrots until soft, 5-7 minutes over medium heat. In the process of frying, add a little salt and pepper, add bay leaves.
Peel and chop the potatoes. cubes.
We send frying and potatoes to the broth.
After 10 minutes, take out the bay leaf and chicken drumsticks from the pan.
Remove the meat from the bones and cut it into arbitrary pieces.

Return the chopped meat to the soup and add the vermicelli. Salt and pepper to taste. After 3 minutes, turn off the heating.
Soup with chicken, potatoes, and noodles is ready.
Bon Appetit!
Also Like
Comments for "Soup with Chicken, Potatoes, and Noodles"