Rice Soup with Meatballs and Tomato Paste
by Editorial Staff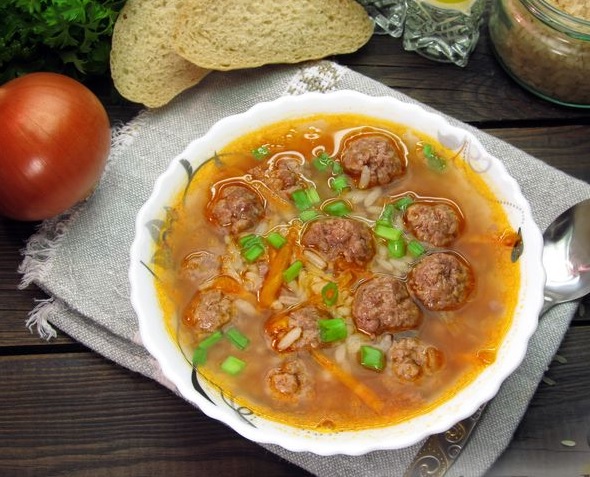 Quite easy to prepare rice soup with minced meatballs and tomato paste. The undoubted advantage of such a soup is that you do not need to cook the broth, and therefore waste time. Appetizing meatballs are best combined with rice, tomato paste gives the soup a pleasant sourness. A versatile soup worth paying attention to!
Ingredients
Minced pork and beef – 500 g
Long grain rice – 100 g
Carrots – 100 g
Onions – 80 g
Tomato paste – 40 g
Refined sunflower oil – 20-30 ml
Ground pepper (pepper mix) – to taste
Salt to taste
Green onions – 5-10 g
Water – 2 l
Directions
Necessary products.

Pour salt and a mixture of ground peppers into the minced meat.
Stir until smooth.
We form small meatballs from minced meat.
Peel the onions and carrots.
Cut the onion into cubes, rub the carrots on a coarse grater.
In a frying pan, heat the vegetable oil and fry the onions and carrots for about 7 minutes, until golden.
Add tomato paste to the pan.
Mix and cook for another 1-2 minutes.
We wash the rice and send it to boiling water.
Along with the rice, layout the frying of vegetables.
Bring to a boil and add the meatballs. Salt to taste.
Cook for about 12-15 minutes, until the rice is almost done. The rice should not be too soft. After insisting, it will come to full readiness. Pour in a mixture of ground peppers to taste and remove the pan from heat.

Cover the pot with a lid and let the soup brew for 15 minutes.
Rice soup with meatballs and tomato paste is ready.
Finely chop the green onion.
Pour the soup into bowls and sprinkle with chopped green onions.
Bon Appetit!
Also Like
Comments for "Rice Soup with Meatballs and Tomato Paste"