Green Borscht with Meatballs, Bell Pepper, and Tomato Paste
by Editorial Staff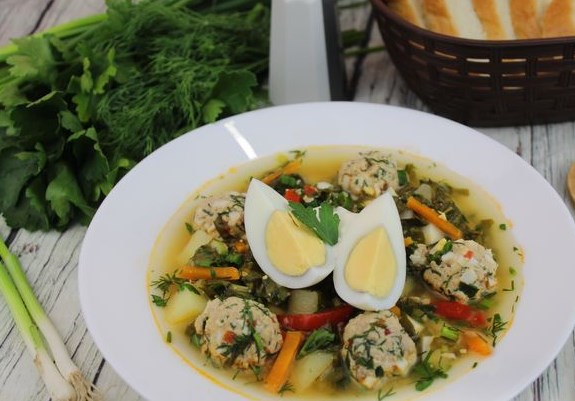 The main distinguishing feature of the green borscht according to this recipe is that instead of pieces of meat – meatballs, for which minced meat is added finely chopped boiled egg, bell peppers, and herbs. And sweet peppers and tomato paste are rarely found in green borscht. Such tricks make the green borscht even more attractive and tasty.
Ingredients
Sorrel – 1 bunch (100 g)
Minced pork – 250 g
Potatoes – 5 pcs. (700 g)
Bulb onions – 1 pc. (90 g)
Carrots – 1 pc. (120 g)
Sweet pepper – 0.5 pcs. (125 g)
Large raw egg – 1 pc.
Boiled eggs – 5 pcs.
Parsley greens – 1 bunch (50 g)
Dill greens – 1 bunch (50 g)
Green onions – 1 bunch (50 g)
Ground black pepper – to taste
Salt to taste
Vegetable oil – 3 tbsp (45 ml)
Tomato paste – 1 tbsp
Water – 2 l
For the filling (optional):
Sour cream – to taste
Parsley to taste
Directions
Prepare all the ingredients you need. Peel and wash potatoes, carrots, and onions. Soak the greens in very cold salted water for 10 minutes. Then rinse and dry the greens. Pour five eggs (if large, use three) in a saucepan with cold water, bring to a boil and cook for 10 minutes. The required degree of readiness of the eggs is hard-boiled. Transfer the boiled eggs to cold water and cool completely by changing the water several times. Peel the cooled eggs.
Cut half the specified amount of bell peppers into very small cubes. Cut the remaining pepper into strips. Cut the onion into quarters. Cut the carrots into cubes.
Heat 2.5 tablespoons in a skillet. tablespoons of vegetable oil. Fry the onions over medium heat for 2 minutes, stirring occasionally, until translucent. Add strips of bell peppers and carrots to the onion. Stir. Saute on low heat for 10 minutes.

Cut two boiled eggs into large cubes. Cut one boiled egg very finely. Leave the remaining two boiled eggs for serving.
Finely chop the green onion, dill, and parsley with a knife.
In a deep bowl, combine the minced meat, half of the finely chopped onion, dill, and parsley, the finely chopped egg and bell pepper. Add a raw egg, a pinch of salt, and 1/3 teaspoon of black pepper.

Beat the minced meat, collecting it in a lump and throwing it with force on the bottom of the bowl (repeat 15-20 times). Form the meatballs into the size of a quail egg.
Cut the potatoes into large cubes. Pour 2 liters of cold water over the potatoes in a saucepan and heat. Cook for 5 minutes after boiling, skimming off the foam that appears with a slotted spoon.
Add the fried onions, carrots, and bell peppers to the potato saucepan. Bring to a boil.
Put the meatballs in boiling water and cook for 10 minutes. Meanwhile, in a skillet, heat the remaining vegetable oil and sauté the tomato paste for 1 minute, stirring occasionally.

Cut the sorrel into strips. After boiling for 10 minutes, add the coarsely diced eggs to the saucepan. Send sorrel and tomato paste there. Cook for 2 minutes.
Finally, add the remaining finely chopped herbs, salt, and black pepper to taste. Turn off the fire. Cover the pot with green borscht with a lid and let it brew for 10 minutes. Bon Appetit!
Also Like
Comments for "Green Borscht with Meatballs, Bell Pepper, and Tomato Paste"