Couscous with Tomatoes and Bell Peppers
by Editorial Staff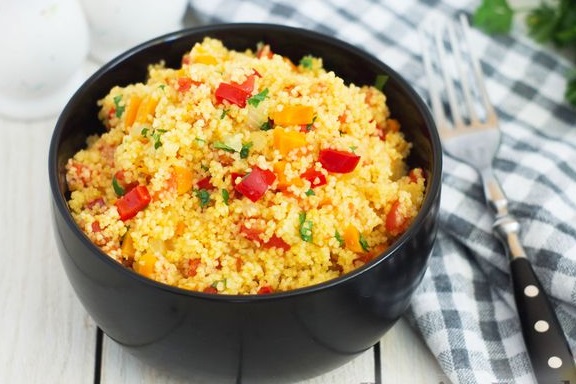 This bright independent dish is attractive because it is prepared quite easily and quickly. Bell peppers, tomatoes, onions, and carrots are first fried, then couscous is added to them. Everything is poured with boiling water and cooked for another 10 minutes. It turns out very tasty – neutral couscous perfectly absorbs all the aromas of vegetables.
Ingredients
Couscous – 150 g
Tomatoes – 170 g (3 pcs.)
Bulgarian red pepper – 110 g (1 pcs.)
Carrots – 65 g (1 medium-sized)
Onions – 55 g (1 medium-sized)
Garlic – 1 clove
Ground turmeric – 0.25 teaspoon
Salt – 0.5 teaspoon
Ground black pepper – on the tip of a knife
Water (boiling water) – 250-300 ml
Vegetable oil – 2 tablespoons
Fresh parsley (for serving) – 1-2 branches
Directions
Prepare the necessary food. Peel the carrots and onions. Rinse carrots, onions, tomatoes, and bell peppers.

Cut each tomato crosswise from above. Pour boiling water over the tomatoes in a bowl for 30-45 seconds and then drain in a colander. Pour ice water over the tomatoes and peel them off.
Cut the pepper in half lengthwise, remove the inner part with the seeds. Cut the bell peppers, onions, carrots, and tomatoes into small cubes.
Peel the garlic, cut into 2 parts. Heat vegetable oil in a deep frying pan and add the halves of the garlic. Saute the garlic over medium heat until lightly browned and remove from the pan.
Put chopped carrots, bell peppers, onions, and tomatoes in hot aromatic oil. While stirring, fry over medium heat for 4-5 minutes, until vegetables are soft. Boil water in parallel in any way.
Add turmeric to vegetables, stir. Then add the couscous and stir.
Pour in boiling water, add salt, black pepper, and stir.
Cover the pan with a lid, bring the liquid to a boil and cook the dish over low heat for 7-10 minutes, until the couscous is fully cooked.

Rinse the parsley, shake, chop finely and add to couscous and vegetables. Mix everything.
Couscous with tomatoes and bell peppers can be served immediately after cooking.
Enjoy your meal!
Also Like
Comments for "Couscous with Tomatoes and Bell Peppers"