If there are no second courses for lunch, I always try to add some kind of cereal or pasta to the soup. But what if suddenly something went wrong? It seems that she was going to have time for everything at once, but on the stove, there is only cheese soup, and at the table, everyone is already knocking with a spoon. In this case, couscous always helps me out – it is prepared in a matter of minutes. This cheese soup with chicken, couscous, and bell pepper disappeared instantly, but no one asked for more, as it turned out to be quite satisfying.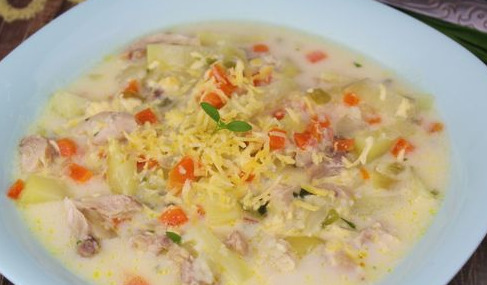 Ingredients
Chicken leg – 400 g (1 pc.)
Couscous – 50 g
Potatoes – 200 g (2 pcs.)
Carrots – 90 g (1 pc.)
Onions – 70 g (0.5 pcs.)
Sweet pepper – 100 g (1 pc.)
Processed cheese – 90 g
Hard cheese – 50 g
Vegetable oil – 30 ml
Parsley (frozen or fresh) – 10 g
Bay leaf – 1 pc.
Allspice peas – 1 pc.
Black peppercorns – 5 pcs.
Salt to taste
Water – 1.2 l
Directions
Pour chicken meat in a saucepan with cold water (1.2 l), add peppercorns and bay leaf. Pour in 0.5 teaspoons of salt. Bring water to a boil over high heat, remove the foam and reduce heat to low. Boil the broth for 40 minutes.
Cut the peeled onions, carrots, and bell peppers into small pieces.
Cut the peeled potatoes into cubes or in another way (as they used to cut for soup).
Heat vegetable oil in a skillet and fry onions, carrots, and bell peppers over medium heat for 7 minutes, stirring occasionally.
Add potatoes and cook on low heat for another 5 minutes.
Grate cheese (processed – on a coarse, hard – on a fine).
When the broth is ready, strain it through a sieve and return to the fire. Leave the chicken to cool to a hand-friendly temperature.
Put the fried vegetables in the boiling broth. Cook for 5 minutes.
Add the processed cheese and half of the hard cheese (the rest will be needed for serving).
Add couscous there. Mix.
Separate the chicken meat from the skin and bones and add to the soup. Bring to a boil and turn off the heat.
Add greens. Mix. Try and add salt if necessary.
Enjoy your meal!