Solyanka with Sausage and Smoked Brisket
by Editorial Staff
Who doesn't love hodgepodge! This full-bodied, aromatic meat-based first course will fill you all day long. A hodgepodge with sausage is prepared much faster than a classic one because you do not need to cook meat broth. But the taste is in no way inferior, be sure to try it!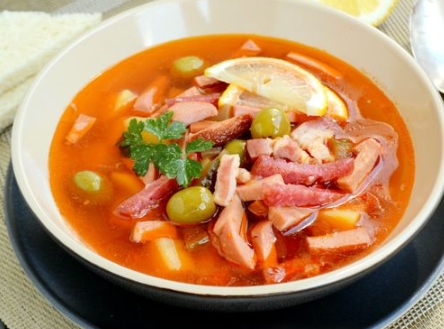 Cook: 50 mins
Servings: 8
Ingredients
Boiled sausage – 300 g
Smoked pork brisket – 300 g
Smoked sausage – 250 g
Potatoes – 500 g (6-7 pcs.)
Pickled cucumbers – 350 g (4-5 pcs.)
Olives – 150 g
Bulb onion – 100 g. (1 pcs.)
Tomato paste – 2 tbsp
Cucumber pickle – 150 ml
Vegetable oil – 4 tbsp
Salt – 1 teaspoon
Ground black pepper (a mixture of ground peppers) – to taste
Water – 2.5 l
For filing:
Fresh parsley – to taste
Lemon – 3-4 slices
Directions
Prepare all ingredients. Peel the onions. Free the sausage and brisket from the packing material. I add olives to the hodgepodge along with the marinade.

Peel and cut the potatoes into small cubes.

Transfer the potatoes to a saucepan, pour 2.5 liters of water and put on fire. Bring to a boil and simmer for 10 minutes over low heat.
Cut the sausage and brisket into cubes.
Heat 2 tablespoons in a skillet. tablespoons of vegetable oil and fry the chopped sausage and brisket on it for 5-7 minutes, stirring occasionally.
Transfer the sausage and brisket to the pot with the potatoes, bring to a boil and cook for another 5-7 minutes.
Cut the onions and pickles into small cubes.
Heat the remaining vegetable oil in a skillet and fry the onions until transparent.
Add pickles and sauté for another 5-7 minutes.
Add the tomato paste to the skillet and fry for 3-4 minutes, stirring occasionally.
Transfer the tomato and cucumber roast to a saucepan and bring to a boil.
Pour in the cucumber pickle, bring the hodgepodge to a boil again.
Add salt, a mixture of ground peppers and olives to a saucepan along with the marinade. Add a little salt, as the brisket, cucumbers, olives and sausage are salty – you can easily oversalt the dish.
Bring the hodgepodge to a boil, turn off the heat and let the dish sit for another 10 minutes on the stove.
Solyanka with sausage and smoked brisket is ready.
Pour the dish into serving bowls. Add fresh parsley and a couple of lemon slices to bowls.

We've got a rich, tasty, nourishing hodgepodge! It cooks quickly, but eaten even faster.)
Bon appetit!
Also Like
Comments for "Solyanka with Sausage and Smoked Brisket"