Canape "Maggie"
by Editorial Staff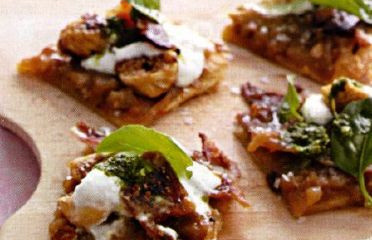 If you have a meeting with friends, I have a very nice party snack. Hot sandwiches look interesting and taste good.
Servings: 32
Ingredients
Olive oil
Butter, unsalted, chilled, pieces – 80 g
Onions, cut into rings – 1 kg
Brown sugar – 1 tbsp
Wine red vinegar – ¼ cup (60 ml)
Dried figs, cut in half, soaked for 1 hour in 4 tbsp sour fruit juice – 1 cup (75 g)
Pancetta (seasoned pork belly, a type of bacon) fried – 16 slices
Goat cheese (cottage cheese or soft cheese) – 1 glass
Pesto sauce (basil leaves – about 50 g, garlic – 2 cloves, pine nuts – 4 tablespoons, olive oil –
150 ml, Parmesan – 50 g)
Basil leaves
A dough according to the given recipe
or puff pastry – 375 g

Dough:

Butter, unsalted, chilled, pieces – 200 g
Flour – 250 g
Sour cream – ½ cup (120 g)
Directions
Preheat oven to 220 degrees. For the dough, combine flour and butter in a food processor until crumbled. Add sour cream. Knead to "collect" the dough into a ball. Divide in half, wrap in plastic wrap and refrigerate for half an hour.
Heat 2 teaspoon in a skillet. olive and 50 g of butter. Add onion, sugar and cook over medium heat, stirring occasionally, for 30-40 minutes. Add vinegar, remove from heat. Heat the remaining butter. Add figs (dried, cut in half, soaked for 1 hour in 4 tablespoons of sour fruit juice) with juice and cook for 5 minutes to evaporate and soften the figs.
On a floured surface, roll out two pieces of dough to a thickness of 3 mm. Place on two baking sheets, prick with a fork, and bake for 3 minutes. Cover the dough with a towel and press lightly. Remove the towel and bake for another 4-5 minutes.
Put onions, figs, pancetta, cheese on the cakes. Bake for 3 minutes. Cut each piece into 16 sandwiches. Drizzle with olive oil, brush with pesto sauce, add basil leaves and serve immediately.
Enjoy your meal!
Also Like
Comments for "Canape "Maggie""