Canapes for the Festive Table
by Editorial Staff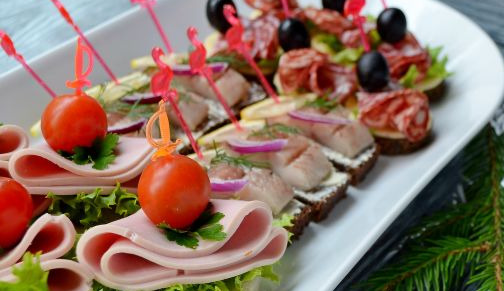 I offer three types of festive canapes – with boiled sausage, with cheese and smoked sausage, and with herring. Canapes are the perfect New Year's snack. When a lot of friends gather, and there is no time and desire to tinker with complex dishes, a lot of such canapé sandwiches will diversify and decorate the festive menu.
Cook: 15 minute
Servings: 6
Ingredients
Lightly salted herring (fillet)
Sweet onion (Crimean)
Dill greens
Lemon
Butter
Black bread
Cooked sausage doctor's (slicing)
Cherry tomatoes
Leaf salad
Parsley
White bread
Moscow smoked sausage (slicing)
Hard cheese (sliced)
Olives
Leaf salad
Black bread
Directions
Cut the brown bread into rectangular pieces, the size of the herring fillet pieces. Brush the bread with a thin layer of butter.
Place a slice of herring and a few strips of thinly sliced ​​Crimean sweet onions on the bread and butter.
Top with a sprig of fresh dill and a small slice of lemon. Fasten the herring canapes with a skewer.

Prepare the ingredients for the sausage canapes: white bread, lettuce, boiled sausage cut into thin slices, cherry tomatoes, parsley.
Cut out round slices from white bread.
Place a leaf of lettuce and a circle of doctor's sausage, folded four times on the bread.

Lay the cherry tomato and a sprig of parsley on top. Fasten the canapes with the boiled sausage with a skewer.
For the smoked sausage and cheese canapés, cut round slices of brown bread into a mold. Lay a thin circle of cheese cut in the same shape on top of the bread.
Top with a leaf of lettuce, two slices of smoked Moscow sausage, and black olive. Seal the cheese and smoked sausage canapes with a skewer.
Enjoy your meal!
Also Like
Comments for "Canapes for the Festive Table"