Milk Muffins with Berries
by Editorial Staff
Now – the perfect recipe for muffin dough with berries! Small cupcakes are airy, fragrant, with a bright berry flavor and a crispy appetizing crust. Try to bake such muffins in milk once, and you will not be able to stop – you will cook them again and again.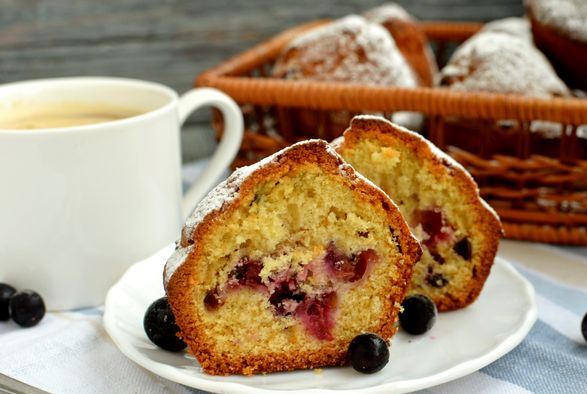 Cook: 40 mins
Servings: 12
Ingredients
Milk – 140 ml
Eggs – 3 pcs.
Butter – 80 g
Vegetable oil – 70 ml
Sugar – 250 g
Flour – 380 g (3 cups with a capacity of 200 ml)
Baking powder – 10 g
Salt – 1 pinch (to taste)
Vanillin – on the tip of a knife
Berries (I have frozen black currants) – 200 g
Directions
The flour must be sieved to enrich it with oxygen and remove unnecessary debris. Remove the butter from the refrigerator half an hour before cooking to thaw and soften. Turn on the oven to heat up to 190 degrees.
Set aside about a quarter of the butter to grease the molds. Combine sugar, vanillin and soft butter in a bowl. Rub them with a fork or whisk until smooth.
Add the eggs one by one, stirring each time with a whisk until smooth.
Pour in milk and vegetable oil. Stir with a whisk.
Add flour and baking powder, whisk and break up any lumps.

The consistency of the dough is quite thick, it flows from the shoulder blade in a slow thick stream.
Add berries to the dough. Frozen berries do not need to be defrosted beforehand.
Use a spatula to gently stir the berries into the dough.
Grease the muffin molds with butter. If you are using paper inserts or silicone molds, they do not need to be lubricated.
Fill the forms with dough to 2/3 of their volume and place in an oven preheated to 190 degrees.
Bake muffins with berries for 25-30 minutes, check readiness with a dry match. If the match comes out of the muffins dry, then they are ready.
Finished muffins can be sprinkled with powdered sugar or decorated with icing.
Loose, slightly damp, blackcurrant muffins came out just perfect.
Also Like
Comments for "Milk Muffins with Berries"