Creamy Jelly with Strawberries
by Editorial Staff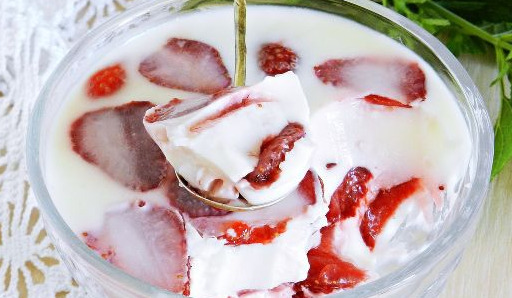 A delicate cream-based dessert with berries turns out to be very tasty, sweet, bright, and beautiful.
Servings: 3
Ingredients
Strawberry – 300 g
Milk – 200 ml
Cream 33% – 200 ml
Sugar – 0.5 cups
Vanilla sugar – 1 teaspoon
Gelatin – 2 teaspoon
Directions
Mix 100 ml of milk, cream, sugar, and vanilla sugar and put on fire. While stirring, heat until sugar dissolves.
Dissolve the gelatin in the remaining milk and leave to swell for 10 minutes.
Then put the gelatin in a water bath and dissolve it in milk.
Pour the gelatin into the milk-cream mixture, stir well.
Wash the strawberries, remove the sepals.
Slice a portion of the strawberries and place them in bowls or suitable molds.

Pour the milk-cream mixture into half of the container. Put the bowls in the refrigerator for 30 minutes.
Then fill the bowls with the remaining strawberries and the milk-cream mixture. Put in the refrigerator for several hours until the jelly hardens completely.
Enjoy your meal!
Also Like
Comments for "Creamy Jelly with Strawberries"