Strawberry Jelly for the Winter
by Editorial Staff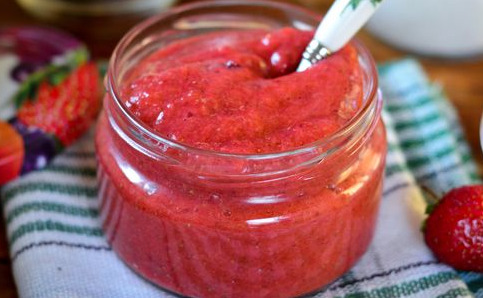 Strawberry jelly for the winter is a delicious treat for the whole family. Strawberry jelly can be added to any desserts, baked goods, or simply spread on bread. A simple recipe is in front of you, and to make the jelly thick, you need gelatin.
Ingredients
Strawberry – 500 g
Sugar – 300 g
Gelatin – 10 g
Water – 50 g
Directions
Pour gelatin with plain water at room temperature. Leave the gelatin to swell for 10-15 minutes.
Boil water in a saucepan, install a sieve or a special ring for sterilizing jars, put washed glass jars with the neck down. Sterilize cans over steam for 3-4 minutes. The lids can only be doused with boiling water.
In the meantime, peel the tails off the strawberries and place them in a bowl or saucepan.
Rinse the berries in water, drain the liquid.
Chop strawberries in mashed potatoes: you can use an immersion blender or using a meat grinder. Add all the sugar to the strawberry puree and cook over the fire. Cook after boiling for 5-7 minutes over low heat. Remove from heat, cool. Repeat the cooking procedure again.

Heat mashed potatoes for the third time. Add the swollen gelatin to the hot mass. Stir to dissolve the gelatin. Without waiting for a strong boil, remove the strawberry jelly from the heat.
Arrange hot strawberry jelly in sterile jars, leaving 1 cm to the neck. You get about 0.5-0.6 liters of jelly.
Cover the jars with lids and tighten. Store strawberry jelly in a cool, dark place, in a pantry or cellar.
Enjoy your meal!
Also Like
Comments for "Strawberry Jelly for the Winter"