Jelly from Custard Coffee
by Editorial Staff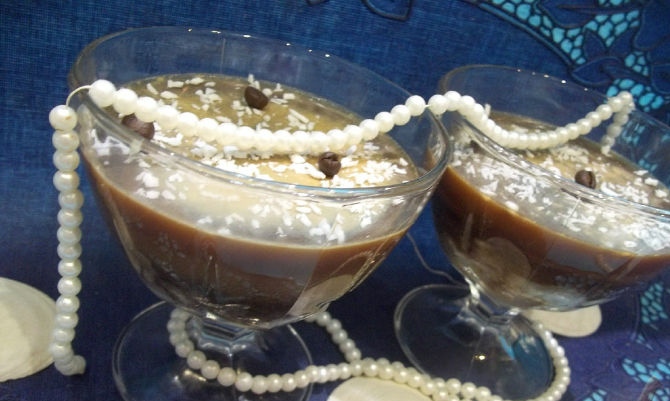 If you are looking for a jelly recipe for a true coffee gourmet, then you can find it here. I will tell you in detail how to make coffee and milk jelly.
Ingredients
Brewed coffee – 2 tablespoons
Milk – 300 ml
Gelatin – 30 grams
Sugar to taste
Nuts – for decoration
(can be substituted with chocolate, coconut, or fruit)
Directions
Brew the gelatin. Instructions for its preparation should be written on the packaging. For example, I pour the powder into a glass, fill it with warm water and stir until completely dissolved.

Then make milk jelly. To do this, heat the milk a little on the stove. Add sugar and stir to melt sugar. Add gelatin to the milk, stir and pour the milk into a mold, which is placed in the refrigerator to cool.
When the milk jelly has solidified, cut it into pieces, which can be of various sizes, and spread them evenly in the bowls.

While the milk jelly is solidifying, prepare the coffee jelly. To do this, brew the coffee first. If you have coffee beans, then grind it into a powder, which you put in a Turk, fill it with cold water and put it on fire. When the water boils, remove the coffee from the heat. Add sugar to the coffee and stir. Let it cool slightly, then add the diluted gelatin.
Pour coffee jelly into bowls on top of the milk jelly. When you pour the coffee jelly, it will slightly melt the milk jelly. The milk jelly will dissolve and mix with the coffee jelly, but not completely. Thus, you get milk jelly at the bottom of the mold, coffee with milk in the middle, and pure coffee at the top. Send the coffee and milk jelly to the refrigerator to freeze.

Garnish the finished coffee and milk jelly with chopped nuts before serving.
Enjoy your meal!
Also Like
Comments for "Jelly from Custard Coffee"