Whipped Oatmeal with Milk, with Apple and Cinnamon
by Editorial Staff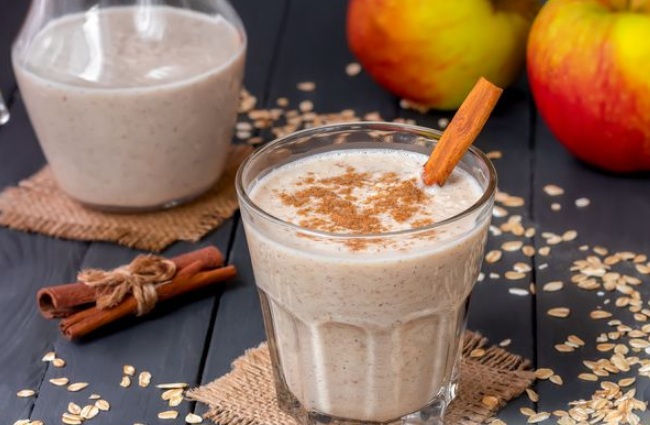 This thick milky smoothie with oatmeal, apple, cinnamon, and honey is a great option for a healthy and satisfying snack with a minimum of ingredients. Due to the fact that the oatmeal is not boiled, but steamed in hot milk in advance, there is no need to stand at the stove, and the entire cooking process is reduced to 5-7 minutes. The oat-milk smoothie can be prepared in the evening, and in the morning just load all the ingredients into a blender and beat. Simple, fast, and delicious! Try it!
Cook: 40 min.
Servings: 2
Ingredients
Apple – 250-300 g
Milk – 300 ml
Oatmeal flakes – 50 g
Honey – 20 g
Ground cinnamon – 1 teaspoon
Directions
Measure the milk into a saucepan or small saucepan, place on medium heat, and bring to a boil.
Turn off the heat and add the oatmeal to the hot milk. Cover the container with a lid and leave for about 25-35 minutes to soften the oatmeal and cool the porridge. If you cook porridge from evening to morning, place it in the refrigerator after cooling.
Peel the apple and seed pod, cut into small pieces, and place in the blender bowl.
Add cinnamon and honey.
Add cooled milk and oatmeal mixture.
Whisk on high speed for about 1.5-2 minutes, until smooth. With these proportions, the smoothie is quite thick. If desired, it can be diluted to the desired consistency by adding a little more milk or cold boiled water.
Whipped oatmeal in milk, with apple and cinnamon, ready. Pour the drink into glasses, sprinkle with a pinch of ground cinnamon if desired, and serve. Bon Appetit!
Also Like
Comments for "Whipped Oatmeal with Milk, with Apple and Cinnamon"