Oatmeal with Milk
by Editorial Staff
To your attention – a recipe for oatmeal in milk. Many people dislike oatmeal because it is viscous, thick and heavy. This is because it is immediately prepared with milk. Try it differently!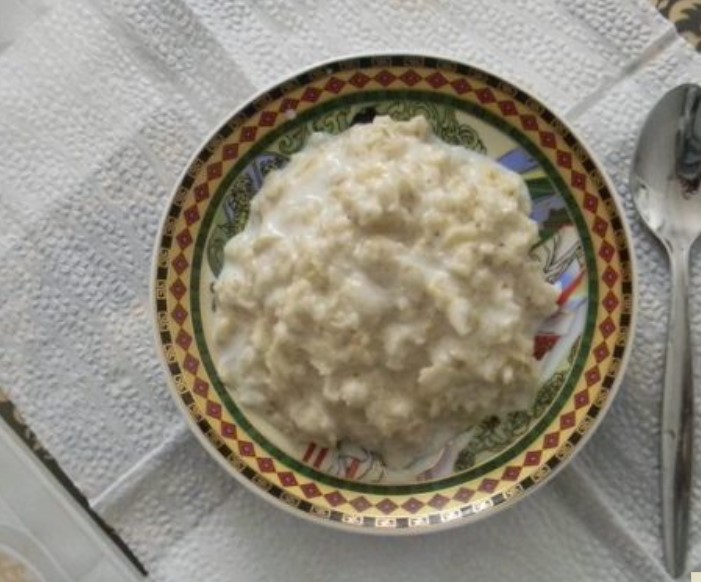 Cook: 30 mins
Servings: 3-4
Ingredients
Oatmeal – 1 Cup
Milk – 1 Glass
Water – 2 Glasses
Salt – 1 Part (at the tip of a teaspoon)
Sugar – To taste
Directions
There are ordinary oatmeal flakes that take longer to cook, and they must be sorted out of the husk and washed. Small flakes are already prepared for boiling, do not require cleaning and boil very quickly. Pour water into a saucepan and boil it. Season with salt to taste and pour the cereal into the pot. Be sure to stir.
You need to cook until almost cooked. If you have ordinary flakes, you need to cook them for about 15 minutes. Small flakes will take about three minutes.
When your porridge is puffed up, pour milk into it. Bring the saucepan to a boil, stir, close the lid and reduce heat. With quick flakes, you need another 3-5 minutes.
Turn off the fire and let our porridge brew. Add sugar if needed. Remember that the longer the porridge is left, the thicker it becomes.

Only the least remains. Place the porridge on a plate and season with butter. Porridge will be even tastier if you add washed and peeled raisins or dried apricots to it. You can add fruit.
They can be cut into cubes and fried in oil or baked in the oven. Imagine. All in your hands.
Bon appetit!
Also Like
Comments for "Oatmeal with Milk"