Oatmeal with Milk, Raisins, Apples and Cinnamon
by Editorial Staff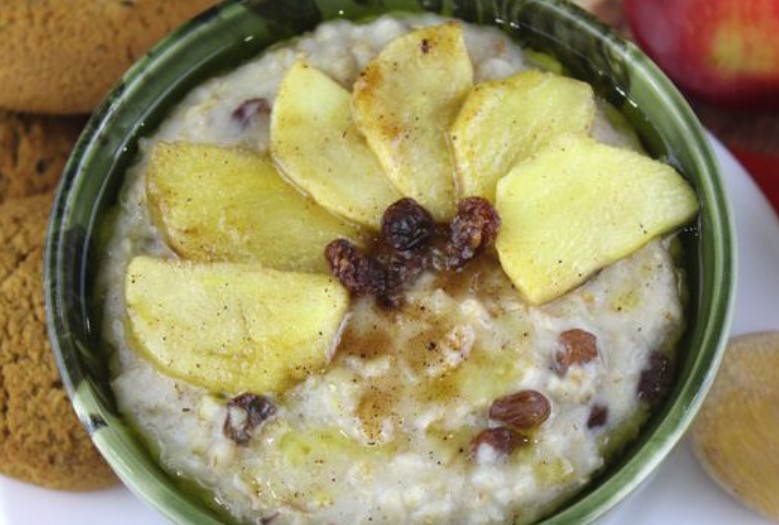 If you care about your health, then oatmeal is definitely in your morning diet. But if you eat this porridge without additives, then very quickly you will get bored with it. Diversify your breakfast – make oatmeal with milk, grated apple, raisins, and cinnamon, and serve it with caramelized apples.
Ingredients
Apples – 3 pcs.
Raisins – 50 g
Instant flakes "Hercules" – 100 g
Milk – 250 ml
Butter – 30 g
Sugar – 3-3.5 tbsp
Ground cinnamon – 1 teaspoon
Salt – 1 pinch
Water – 250 ml
Directions
Prepare all required ingredients. Peel and core two apples and cut into thin slices (0.5 cm).

Melt the butter in a frying pan. Put the apple slices there and fry them for 2 minutes on one side.
Then gently turn over and fry for a minute on the other side.
Sprinkle apples evenly with 3 tablespoon. tablespoons of sugar. Add half a teaspoon of cinnamon.
Heat apples with sugar over low heat. The sugar should melt. Then, gently shake the pan until the sugar, apple juice, and butter are combined. Simmer apples for another 2 minutes. Then turn over again and fry for a few more minutes, so that the apple slices are covered with an even layer of caramel with cinnamon.
Prepare oatmeal. Put the oatmeal in a saucepan or small saucepan. Rinse the flakes several times in cold water. You don't have to, but I like to make sure the flakes are free of impurities. Add remaining cinnamon, salt, and raisins. Add half a tablespoon of sugar if desired.
Grate the remaining apple with the peel on a fine grater and add to the flakes.
Pour in milk and water.
While stirring, bring to a boil. Cook over medium heat until tender, about 15-20 minutes.
Arrange oatmeal with raisins, apples, and cinnamon on plates and top with caramelized apples. Heat the remaining caramel in the pan over low heat and dilute with water if necessary. Pour caramel over the oatmeal and serve.
Enjoy your meal!
Also Like
Comments for "Oatmeal with Milk, Raisins, Apples and Cinnamon"