Marshmallow Cake
by Editorial Staff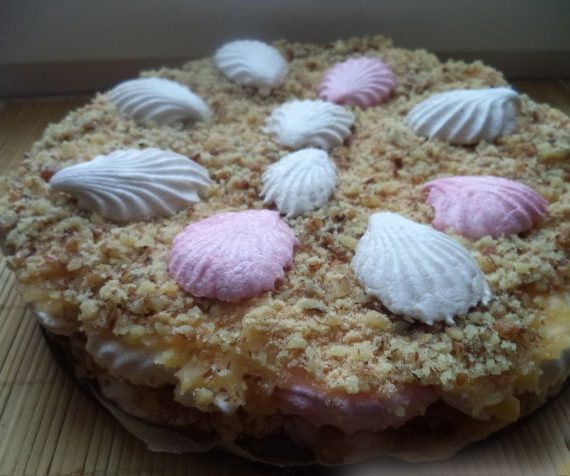 Marshmallow cake is a delicate airy delicacy without baking. Recipe for marshmallow cake made from ready-made marshmallows with butter custard and nuts. This marshmallow cake can stay fresh for a week.
Ingredients
Marshmallow – 1 kg
Peeled walnut – 500 g
Dry ready-made biscuits – 5-6 pcs.
Eggs – 2 pcs.
Sugar – 1.5 cups
Milk – 1 glass
Butter – 200 g
Lemon (zest) – 1 pc.
Directions
Divide the marshmallow into halves, cut off the rounded tops from all.
Crush the nuts with a rolling pin.
Then crush the cookies with a rolling pin.
Wash the lemon, grate the zest on a fine grater.
Boil cream for marshmallow cake: grind eggs with sugar, pour milk.
Stir everything, put on fire, stirring continuously, cook until thick, not letting it boil.
Cool and grind with butter and lemon zest.
The cream is ready.
Cover the sides and bottom of the mold with tracing paper or parchment paper.
This cake has 3-4 layers of marshmallows. So for each layer, you need to take, respectively, a quarter of the total amount of marshmallows, cream, nuts, or cookies.
Put a layer of flat marshmallows in the mold, filling all the gaps with the cut tops with a cut upward so that you get a solid cake.
Apply part of the cream on it, in a thin layer.
Cover the cream with nuts.
Then cover with cookies on top.
Next, put a layer of marshmallows again. And so to stack until all the products are consumed (3-4 layers). Cover the marshmallow cake with cream and decorate with cut tops of marshmallows or halved nuts.
Cover the cake pan with a lid and refrigerate for 3-4 days. The marshmallow cake is ready.
Bon Appetit!
Also Like
Comments for "Marshmallow Cake"