Marshmallows at Home
by Editorial Staff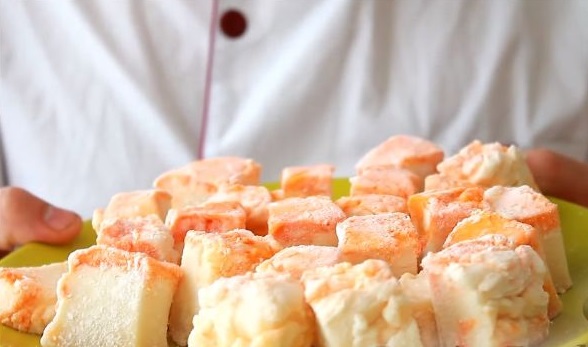 A simple recipe for a delicious pastry is marshmallows. This dessert is somewhat similar to marshmallow, but you should not confuse it with it, because their composition and shape are completely different. And the taste of homemade marshmallows cannot be compared to products from the store.
Ingredients
Sugar – 575 g
Water – 265 g
Powdered sugar – 50 g
Corn starch – 1 teaspoon
Citric acid – 1 g
Soda – 1 g
Gelatin – 25 g
Food coloring
Directions
Homemade marshmallows are made from the simplest ingredients found in every home.
Pour sugar into a saucepan with a double bottom (175 g – 8.5 tablespoons). Pour sugar over with boiled water (75 g). Stir. Add citric acid.
Bring to a boil over high heat.
Then simmer for 42 minutes over low heat. When the "thread" begins to reach for the spoon, the syrup is ready.
Add soda, stir.
Stir until bubbles disappear due to the reaction of soda with citric acid.
Pour gelatin with warm water (100 g). Leave to swell.
Pour 400 g of sugar into a saucepan and add 160 g of syrup. Pour in 90 g of water, stir, put on low heat and cook until the sugar is completely dissolved.
Beat gelatin with a mixer.
Without stopping whisking, gradually add the slightly cooled syrup.
Cover the container with cling film and pour the prepared marshmallow mass.
Can be decorated with food coloring. Send to the refrigerator for 6 hours until it solidifies completely.
Mix the starch with the icing sugar and roll the marshmallows in this mixture.

Sprinkle the knife with a mixture of starch and powdered sugar. Cut the marshmallows into small pieces.

Homemade marshmallows are ready.
Try making marshmallows at home – this is a very tasty and simple dessert.
Bon Appetit everyone!
Also Like
Comments for "Marshmallows at Home"