Apple Marshmallow
by Editorial Staff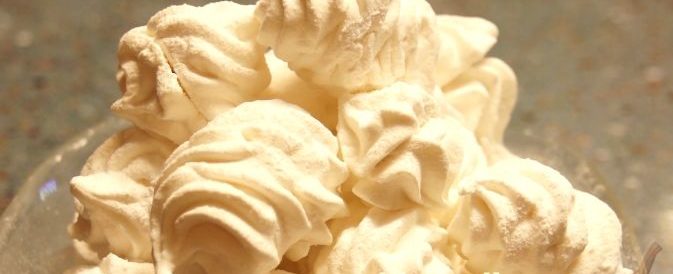 We offer you an apple marshmallow recipe. Homemade marshmallows made according to this recipe are a delicious, light airy treat.
Ingredients
Sour apples – 900-1000 g
Sugar – 250 g
Vanilla sugar – 10 g
Egg white – 1 pc.
*
For syrup:
Water – 140 ml
Lemon juice – 20 ml
Sugar – 475 g
Agar-agar – 8 g
Directions
We prepare products for apple marshmallows.

Let's make the applesauce. 4 large sour apples, cut in half, remove the core and the stalk.
Cook in a double boiler or bake in the oven for 20-30 minutes, until tender.
While the apples are boiling, soak the agar-agar. To do this, pour 140 milliliters of water into a saucepan, add 20 milliliters of lemon juice and 8 grams of agar-agar, mix and set aside.
Peel the finished apples and rub through a sieve. Add 250 grams of granulated sugar and 10 grams of vanilla sugar, mix. Leave to cool for about 1 hour.
After an hour, put the pan with agar-agar on the fire, bring it almost to a boil, add 475 grams of sugar and stir all the time until the sugar is completely dissolved.
Boil the syrup until sample on a thin thread (up to 110 degrees Celsius), stirring from time to time. Remove from heat and let cool slightly, to about 100 degrees.
While the syrup is cooling, beat the cooled applesauce with a mixer, while beating, add one egg white in two steps.
We continue to beat until a fluffy white mass is obtained. The mass has increased in volume by 2.5 times. Without stopping whipping, add syrup cooled to 100-105 degrees in a thin stream. Beat until a white, fluffy, and dense mass is obtained (the mass increases in volume by 2.5 times).
We transfer the marshmallow mass into a pastry bag with a toothed nozzle and place cakes of the same size on baking paper. We leave the marshmallow at room temperature for a day so that it dries a little.
Sprinkle the dried marshmallows with powdered sugar. Glue in pairs put on a dish.
The apple marshmallow is ready. We serve delicious, delicate, and airy fruit desserts to the table.
Also Like
Comments for "Apple Marshmallow"