Coffee Marshmallow
by Editorial Staff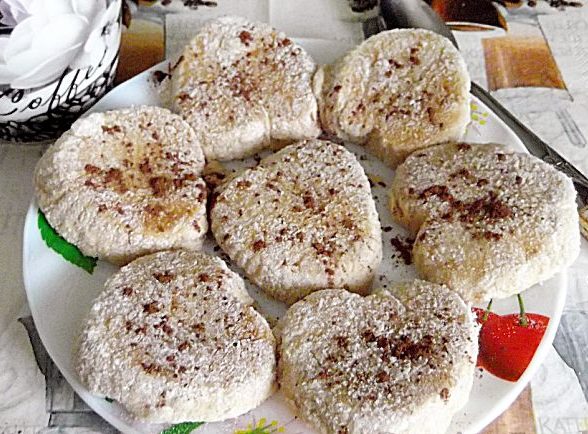 The marshmallow for this recipe comes out quite sweet, with a pleasant aftertaste of coffee. A delicacy for the real sweet tooth.
Ingredients
Granulated sugar – 2 cups
Corn syrup – 3/4 cup
Instant dry gelatin – 20 g
Instant coffee – 2-2.5 tablespoon.
Margarine – 1 teaspoon
Water – 3/4 cup and 0.5 cup
Powdered sugar or nuts – to roll marshmallows
Directions
Pour gelatin with half a glass of hot water.
Stir the gelatin until it dissolves.
Put the sugar in a saucepan and pour 3/4 cup of water.
Pour the corn syrup into the sugar and water.
Add instant coffee and place it on the stove.
Stir the contents of the saucepan until the sugar dissolves and the mixture begins to boil. Then remove from heat and leave to cool slightly.
When the contents of the saucepan have cooled to about room temperature, pour the water and the dissolved gelatin into it.
Now beat with a mixer at maximum speed for about 5 minutes. During this time, the mass will become airy and increase.
Take a baking dish (you can use silicone molds), cover with baking paper, and brush with melted margarine. Put the mass there, cover with foil on top. Refrigerate for at least 6 hours.
After hardening, remove the dessert from the molds. If you used one large mold, then first cut the marshmallow into pieces with a knife. Dip marshmallows in powdered sugar or finely crushed nuts.
Coffee marshmallows are very tender and tasty.
Bon Appetit!
Also Like
Comments for "Coffee Marshmallow"