Chocolates with Marshmallows and Coconut
by Editorial Staff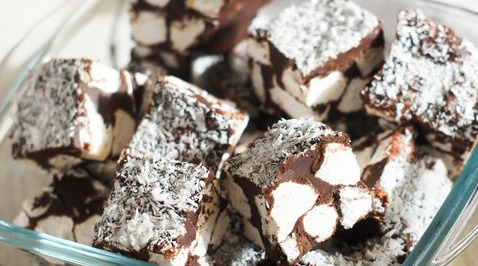 Great homemade candy made with marshmallow marshmallows and dark chocolate! The sweets are interesting due to the difference in structures: soft marshmallow and dense chocolate mass. Coconut flakes in such a delicacy act as a good decoration.
Servings: 6
Ingredients
Chocolate (56%) – 180 g
Marshmallows – 120 g
Butter – 60 g
Coconut flakes – 15 g
Directions
Melt the chocolate in a steam bath, add the butter, and stir. Cool the chocolate mass until warm.
Cut the marshmallows into small pieces.
1-2 pcs. Add marshmallows to the chocolate mass and stir immediately so that the marshmallows do not stick together. Cover the form with parchment paper. I have a form measuring 16×16 cm. Put the resulting mass into the form. Smooth out and tamp the chocolate marshmallow mass, sprinkle with coconut on top.
Place the mold in the refrigerator for about 8 hours, preferably overnight. Then carefully remove the resulting layer from the mold along with parchment paper, unfold and cut into portions.
Enjoy your meal!
Also Like
Comments for "Chocolates with Marshmallows and Coconut"