Shortbread Cookies with Chocolate and Marshmallows
by Editorial Staff
Would you like to get a recipe on how to make shortbread cookies with chocolate and marshmallows? Rather, start cooking such a treat for yourself and especially for the children that they will be delighted.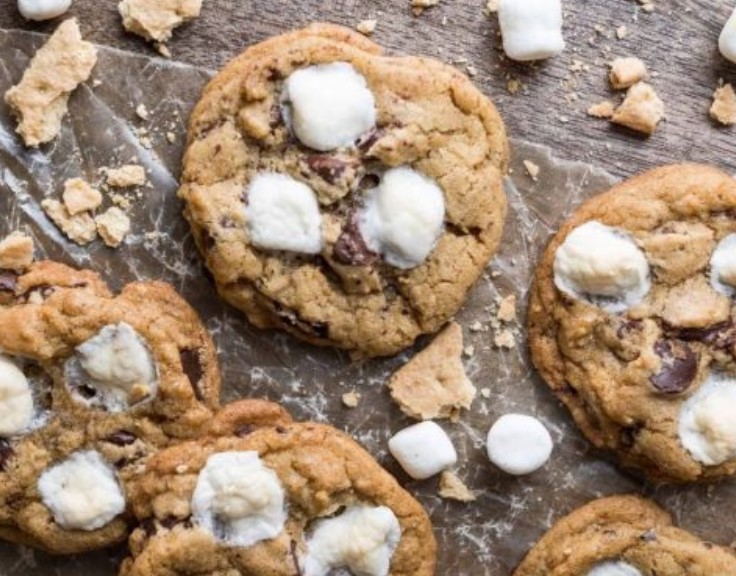 Cook: 1 hour
Servings: 35-40
Ingredients
Sweet crackers – 140 Grams
Flour – 245 Gram
Salt – 1 Teaspoon
Soda – 1 Teaspoon
Butter – 170 Grams
Brown sugar – 160 Grams
White sugar – 150 Grams
Eggs – 2 Pieces
Vanilla Extract – 1 Teaspoon
Chocolate Chips – 2 Cups
Marshmallows – 2 Glasses
Directions
Place sweet cracker in a blender bowl.
Grind the crackers to a fine crumb, which is more like a coarse flour.
Mix crumbs, flour, salt, soda. In a mixer bowl, mix the butter and sugar.

Whisk the butter mixture until fluffy.
Add the egg and vanilla extract to the bowl to the butter.
Whisk everything for about 3-5 minutes.
Add the previously mixed dry ingredients to the bowl of the food processor.
Mix everything again, scrape off any residue on the sides of the bowl.
Break the chocolate if you have a bar or use chocolate chips.
Add chocolate to the dough and mix by hand or using a nozzle.
Send the dough to the refrigerator for half an hour, then use a spoon to place the small cookie balls on the baking sheet.
Bake cookies in an oven preheated to 190 degrees for 10 minutes, then take them out and add 3-4 marshmallows to each. Place in the oven for another 2-3 minutes.
After baking, leave the cookies on a baking sheet for 5-10 minutes to cool.
Enjoy the prepared baked goods,
Bon appetit!
Also Like
Comments for "Shortbread Cookies with Chocolate and Marshmallows"