Delicious Shortbread Cookies
by Editorial Staff
Chocolate-coated shortbread cookies simply melt in your mouth. Cook such delicious cookies for your kids, they will definitely be delighted. And how New Year's cookies can become a festive table decoration.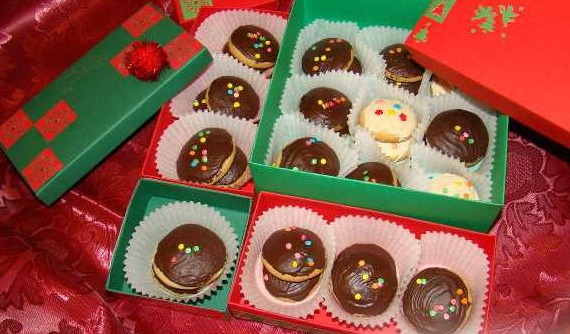 Servings: 6
Cook: 1 hour
Ingredients
Butter (room temperature) – 180-200 g
Flour – 200 g
Powdered sugar – 100 g
Potato starch – 30 g
Vanilla sugar – 0.5 teaspoon
For glaze:
Dark chocolate (good quality) – 100-150 g
Butter (optional) – 20 g
For decoration:
Confectionery topping – to taste
Directions
Beat butter at room temperature with icing sugar with a mixer on low speed.
Add starch and vanilla sugar and beat.
Add flour and beat the dough with a mixer until smooth.

Gather the dough with a spatula into a lump.
Preheat oven to 180 degrees.
About 1 teaspoon. Roll the dough into balls with your hands and put on a baking sheet covered with parchment.
Bake shortbread cookies in a preheated oven at 180 degrees until browned (check readiness after about 15-20 minutes, baking time depends on the characteristics of a particular oven).
Cool the finished shortbread cookies.

Using a pastry brush, apply the melted icing to the cookies. Decorate with pastry sprinkles.

Allow the glaze to dry and you can pack shortbread cookies in boxes.
Have a nice tea!
Also Like
Comments for "Delicious Shortbread Cookies"