Fried Flour Shortbread Cookies
by Editorial Staff
Fried shortbread cookies are very delicate and crumbly, and they taste … nutty. Cookies are quite simple to prepare, but they have only one drawback – they quickly end. You should like it.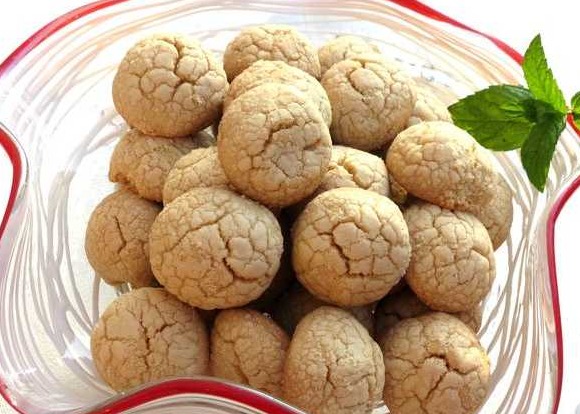 Cook: 1 hour 5 minutes
Ingredients
Butter (soft) – 120 g
Vegetable oil (odorless) – 100 ml
Egg – 1 pc.
Flour – 280 g
Starch (any) – 40 g
Baking powder for dough – 6 g
Powdered sugar – 120 g
Vanillin – 1 pinch
Salt – 1 pinch
Directions
In a dry frying pan, stirring constantly, fry the flour over medium heat (280 g of flour is a little more than two 200 ml glasses).
When the flour turns golden and a nutty smell appears, remove the pan from heat. We continue to stir the flour for some time. Let it cool completely.

Combine softened butter, powdered sugar, vanilla and salt in a deep bowl. Using a spoon, grind the ingredients until smooth.
Add vegetable oil and egg. Mix thoroughly.
Pour in the cooled flour, baking powder, starch. We knead the dough.
We form a ball out of the dough and leave for 7-8 minutes.
We turn on the oven to heat up to 180 degrees.

Let's start forming cookies. Tear off small pieces from the dough and roll them into balls the size of a walnut. I got 54 pieces.
Cover the baking sheet with baking paper.
We transfer the formed cookies to a baking sheet and send them to an oven preheated to 180 degrees. We bake cookies until tender, 15 minutes.
Such aromatic pastries will surely cheer up your loved ones. Have a nice tea with cookies!
Also Like
Comments for "Fried Flour Shortbread Cookies"